The panhandle of Florida is a great place to grow citrus with our plentiful sunshine and sandy soil. But some varieties do better than others. Here are some that thrive in the more northerly climes of Florida: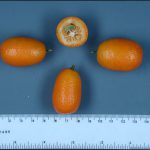 Grapefruit and lime can be grown – although unreliably – on the coast with protection from northwestern winter winds. They are much more susceptible to freezes in more northerly panhandle locations.
In order to have the healthiest and most productive trees, learn about how to properly care for citrus and how to recognize and combat the pests and diseases that occur.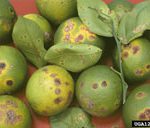 There are threats to our dooryard and commercial citrus from pests and disease. Only vigilance will help to combat the challenges so that we may continue to grow and enjoy our citrus. What can we do to protect our citrus?
Report any serious diseases like suspected citrus canker or citrus greening to the Division of Plant Industry by calling toll-free 1-888-397-1517. Inspections and diagnosis are free. Citrus canker has been confirmed in south Santa Rosa County in the past 3 years.
Purchase citrus trees only from registered nurseries – they may cost a little more but they have gone through an extensive process to remain disease and pest free. That will save you $$ in the long run!
Don't bring plants or fruit back into Florida – they may be harboring a pest!
Citrus trees or fruit cannot move in or out of the State of Florida without a permit. This applies to homeowners as well as to the industry. This rule protects our vital dooryard trees and citrus industry.
For more information please see:
UF IFAS Gardening Solutions: Citrus
Citrus Culture in the Home Landscape
UF IFAS Extension Online Guide to Citrus Diseases
Your Florida Dooryard Citrus Guide – Common Pests, Disease and Disorders of Dooryard Citrus
0