Recently, a home gardener brought in some strange looking new leaves on his camellia. The youngest leaves were thick and fleshy and looked more characteristic of a succulent type plant than a camellia. What's wrong with these leaves?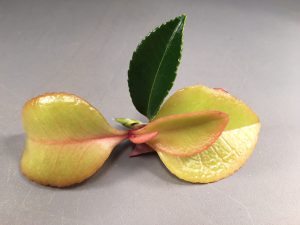 The culprit is a fungus Exobasidium camelliae whose spores are carried by the wind in search of camellias. This fungus infects camellias, especially sasanquas; it will not infect any other plant species. The disease it causes is known as camellia leaf gall and is most commonly seen here in the Florida panhandle in April. The frequent wet weather this winter and spring created favorable conditions for disease development.
The symptoms of the disease are easy to distinguish and really stand out against the typical dark green leaves of the camellia. Leaves become thick and fleshy and the color ranges from light green to cream to pink. As the disease progresses and the galls mature, the lower leaf surfaces of the leaves will peel away to reveal a white underside laden with fungal spores. Wind and rain will take these new spores to other parts of the camellia or other camellias in the vicinity where they will lay dormant and cause infection the following spring. Eventually the galls will turn brown and dry up.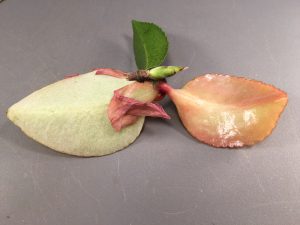 Camellia leaf gall is not a serious disease that requires chemical intervention for the homeowner. Simply remove the galls and put them in the trash. The earlier you remove the galls the better; the risk of further infection can be reduced if the galls are removed before the undersides peel and expose their spores. Any that have fallen to the ground can spread the disease and need to be removed.
For more information:
0