As you have read in other articles in this blog, it is too early to fertilize your lawn; however, this is a good time to start fertilizing your citrus to ensure a healthy fruit crop later in the year.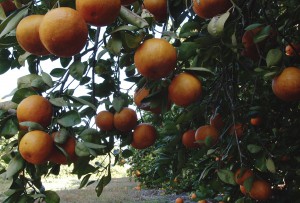 Citrus benefits from regular fertilization with a good quality balanced citrus fertilizer that also contains micronutrients. A balanced fertilizer has equal amounts of nitrogen, phosphorus and potassium such as a 6-6-6, 8-8-8 or a 10-10-10. The amount of fertilizer to be applied will vary on the formulation; for example you will need less of a 10-10-10 than a 6-6-6 as the product is more concentrated. Always consult the product label for the correct amount to use for your particular trees. Fertilizer spikes are not recommended as the nutrients are concentrated in small areas and not able to be widely available to all plant roots.
The number of fertilizations per year will vary depending on the age of the tree. Trees planted the first year need 6 light fertilizations that year starting in February with the last application in October. In following years, decrease the number of fertilizations by one per year until the fifth year when it is down to 3 fertilizations per year. From then on, keep fertilizing 3 times per year for the life of the tree. Good quality citrus fertilizer will have accurate and specific instructions on the label for the amount and timing of fertilizer application.
Fertilizer should be spread evenly under the tree but not in contact with the trunk of the tree. Ideally, the area under the drip line of the tree should be free of grass, weeds and mulch in order for rain, irrigation and fertilizer to reach the roots of the tree and provide air movement around the base of the trunk.
If you have not in recent years, obtain a soil test from your local extension office. This can detect nutrient deficiencies, which may be corrected with additional targeted nutrient applications.
For more information:
Citrus Culture in the Landscape
0