Fleshy distortions are appearing on some azaleas this time of year. What is responsible for this? A fungus, Exobasidium vaccinia, likes our cool, wet spring weather and infects azalea leaves and flower petals. This disease likes a cool, wet, shady and protected environment.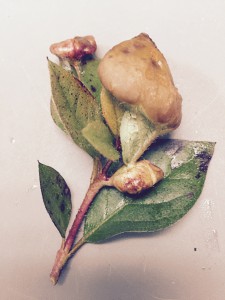 The infection causes the plant to form large, fleshy, distorted tissues known as galls. The galls produce a white powdery coating that is capable of producing more spores that will continue to cause new infections if left on the bush. The gall will eventually turn dry and brown and fall to the ground. Sometimes there are only a few leaves infected or there may be quite a few on a bush.
Not to worry – this is not likely to cause significant harm to your azalea. The best plan of action is to remove the galls as soon as possible and dispose of them in the trash or burn them to prevent reinfection of your plants. Avoid any irrigation that sprays water onto the leaf surfaces as the moisture creates a favorable environment for disease. Once you see this gall forming, there is no chemical control that is effective.
For more information on caring for your azalea:
0