This autumn you may notice shrubs with long, arching branches sporting clusters of shiny purple berries. That beautiful sight is the Beautyberry, or Callicarpa americana. This native is found throughout Florida and the southern United States, west into Texas and north to Tennessee and Virginia.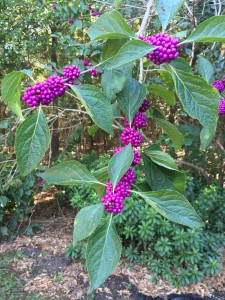 In the spring, lavender flowers adorn the branches and are a favorite of bees. The flowers eventually give way to the shiny purple berries in the fall. Birds find the berries very attractive and will feast on them when found. Mockingbirds and cardinals are especially fond of them. If you plant this shrub for the birds, one or two plants will provide more than enough of the berries to satisfy their appetites.
Beautyberry is adaptable to a wide variety of soils and moisture. After it gets established it is drought tolerant, however it can also do well in a moist area. A spot in your garden that gets partial sun is a perfect location. Plants in too much sun sometimes get a bit yellow and those in too much shade get leggy and don't set as much fruit. Beautyberry is deciduous, meaning that it will lose all its leaves in the winter. Therefore, you may want to place it in an area of your yard where it won't be a focal point in the winter.
This lovely plant is usually readily available at independent nurseries. If you prefer to grow your own, beautyberry is easy to propagate and grows rapidly. Snip off an approximate 6-inch piece from the end of a stem; the cut piece should have 5 sets of leaves. Snip off the bottom 2 sets of leaves – this part of the stem will be in the soil and roots will emerge from where the leaves were removed. Also snip off the top of the stem to include the top set of leaves. Your cutting will end up with only 2 sets of leaves. Immediately put the cutting in a good potting soil, making sure that the lower part of the stem where the 2 sets of leaves were removed is below the soil line. Keep the soil moist as the cutting develops a good root system.
You and the birds will enjoy this lovely shrub for years to come!
0