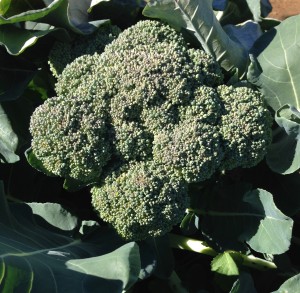 In the Florida panhandle, we are fortunate to be able to grow crops throughout the year. The key is to know what to plant at the various times of the year.
Vegetables that can be planted now include beets, broccoli, cabbage, carrots, cauliflower, Chinese cabbage, collards, kale, kohlrabi, lettuce, green onions, English peas, radish and turnips. For those that are started from seed, especially carrots and radish, sow seed every 2 to 3 weeks to stagger the harvest.
During this cool time of the year, take stock of the vegetable garden area and decide if changes need to be made, such as moving or adding on to it. This is a good time of year to do the heavy labor before the warm, sweaty weather sets in. A popular choice is to add raised beds for growing herbs and vegetables. An advantage of a raised bed is that the garden starts with clean, rich soil that is weed and pest free. Grass and weeds do not have to be dug out for the garden; they can simply be covered by heavy groundcloth, newspaper or cardboard and the raised bed is placed on top.
[important]Consider getting a soil test if one has not been done within the past few years. Always get a soil test before adding lime – it will indicate if lime is needed and exactly how much to apply for best results. The cost is only $7 through the University of Florida. Contact the local Extension office for a soil test kit.[/important]
Stepping outside of the vegetable garden for a moment, for those interested in deciduous fruit such as peaches, pears and apples this is a great time to plant trees to give their roots time to develop before the warm, dry spring months. Be sure to select varieties that are proven performers for North Florida.
For further information please see:
Florida Vegetable Gardening Guide
Soil Sampling and Testing for the Home Landscape or Vegetable Garden
Deciduous Fruits for the Home Gardener in North Florida and North Central Florida
0