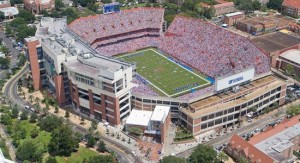 Generally as Extension Agents we do not write interest type articles for this newsletter, but I thought I would mix it up this week and write on two of my favorite things and how they relate. My first love growing up in north Alabama was college football. I would spend hours reading statistics about my favorite players and watching old recorded ball games when there was not a live game on. I was always a small guy so playing the sport I became enamored with as a child was not an option unless I craved pain, which I did not.
One of the greatest attributes of college football is the traditions that each school have formed along the way. This is where my education and discipline come into play. Horticulture is the major I chose in college. I did not have much experience in Horticulture prior to this decision, but I always enjoyed the outdoors and found it a satisfying thought to work there in the future. The way that college football and horticulture work together is more than just the care of the perfectly manicured athletic turf fields that are so commonly found in major college football. Horticulture is deeply ingrained into the traditions of college football and here are a few of my favorites.
The Ohio State Aesculus glabra's
Ohio State is one of the only college teams I know who's team name is named after a species of tree. The tree of course being the Ohio Buckeye or Aesculus glabra. Settlers of Ohio found the tree to be the only one they were unfamiliar with in the forest. Although it may seem strange that they have named athletic teams after a tree the explanation is pretty good.
…in general, the trees and their nuts are of little practical use: the wood does not burn well, the bark has an unpleasant odor, and the bitter nut meat is mildly toxic. Still, the tree has grit. It grows where others cannot, is difficult to kill, and adapts to its circumstances. Daniel Drake, who gave a witty speech on behalf of the buckeye at a well attended dinner in Cincinnati in 1833, said, "In all our woods there is not a tree so hard to kill as the buckeye. The deepest girdling does not deaden it, and even after it is cut down and worked up into the side of a cabin it will send out young branches, denoting to all the world that Buckeyes are not easily conquered, and could with difficulty be destroyed."
reference – http://www.osu.edu/news/history.php
University of Mississippi – The Grove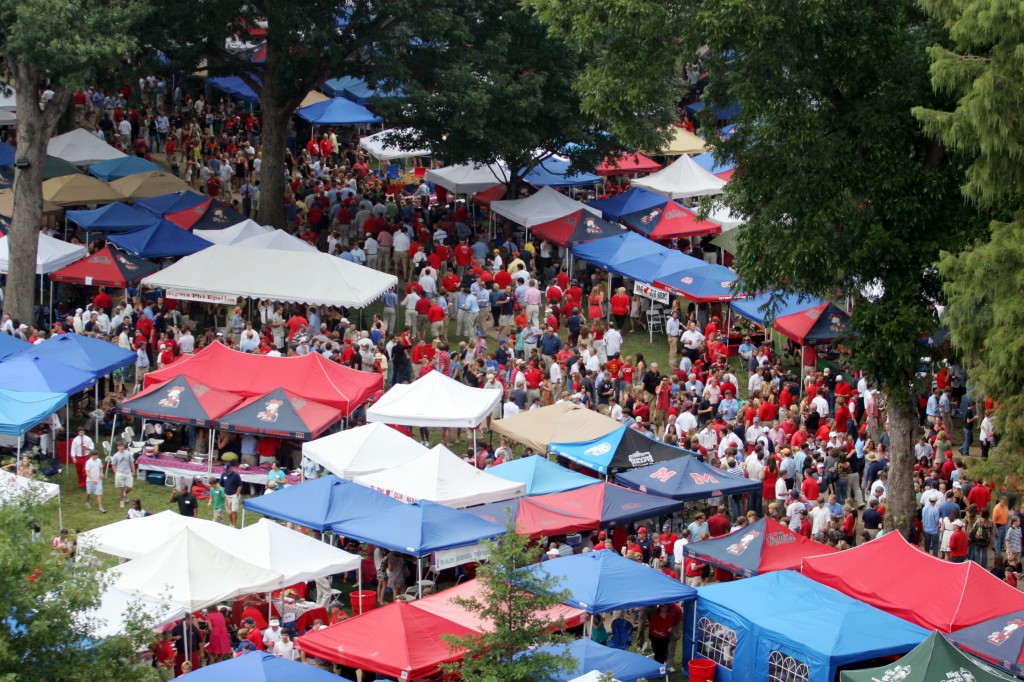 Tailgating is as much a part of the Southeastern Conference is the actual football games. College football is an all day experience not just a 3-4 hour event in the south. From what I understand Ole Miss takes it to another level tailgating in the historic Grove. The Grove took some foresight by a Chancellor named Robert Fulton. Apparently Chancellor Fulton took much pride in the aesthetics of the University and when the library was built on the outer edge of campus in 1892 he extended the campus some ways to the railroad with plantings of trees and a privet hedge around what would be known as "The Grove". Now on game days in Oxford, Mississippi the Grove will be found with hundreds of tailgating tents with fine china and chandeliers. This is a spectacle I have yet to see in my time as college football enthusiast, but I imagine it would be quite a sight for the horticulturist.
The Grove has 40 species according to the University's map. An arboretum is what the grove is and it is a shame that Ole Miss does not have a degree in horticulture because this would be the ultimate outdoor classroom.
reference – http://www.olemiss.edu/depts/landscape/grove.html
Auburn – Toomer's Corner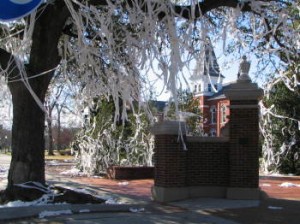 I am partial to this tradition and its significance as Auburn University is my Alma Mater and the college football team I loved as a child. I have great memories celebrating big wins at the corner of College St. and Magnolia St. throwing toilet paper into the Live Oaks that once graced the corner. Of course if you are not a fan of college football you may not know the story of how the beloved oaks were destroyed I will let you read elsewhere on how this occurred.
I have talked to fans and others associated with other colleges and they told me how the Toomer's Oaks weren't what they expected. The legend of Toomer's corner has been spread far and wide by the media and when opposing fans come to see the corner where the University meets the town they found two Live Oaks that are not the most healthy looking trees and not near the size they imagined in their heads. Well the fact is that the Live Oak is not the best selection for a tree in Auburn, Alabama. Live Oaks are better adapted to coastal areas. Majestic large live Oaks can be found in Mobile, New Orleans, and Savannah; and that is probably why fans of visiting teams were somewhat disappointed by the Live Oaks that were so legendary. Although not the best selection those trees did hold a special place in many Auburn people's hearts, but I am sure their replacement will be adored just as much once reaching mature size. Hopefully a better suited species will be chosen.
Georgia – "Between the Hedges"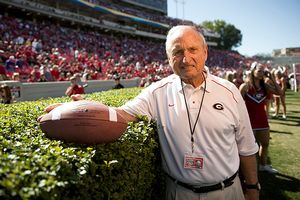 "Between the Hedges" is a tough place to play football if your team is not named the Georgia Bulldogs. Sanford stadium in Athens, Georgia is the home field of the University of Georgia. When the stadium was being built Charlie Martin, an athletic department official, wanted to beautify the stadium with rose hedges like he had seen at the 1926 Rose Bowl in Pasadena, California. Martin was given advice by several Horticulture professors that Rose hedges did not stand a chance in the climate that Athens, Georgia endures. The alternate was Chinese Privet, which most people would consider a weedy shrub. After a team comes into Sanford stadium and wins a big game it has become customary to clip off a piece of the hedge to take home.
reference – http://onlineathens.com/sports/college-sports/2011-11-11/georgias-royal-hedges-create-many-memories-require-lot-upkeep
One last tradition I would like to introduce you to that I find interesting and has a little bit of Horticulture inspiration is Kansas University's "Waving the Wheat". Just watch the video:
What are some traditions that have horticulture involved that I may have missed? Leave a comment below!
0