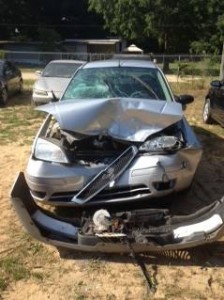 Dawson is a healthy, active 3-year-old whose mom makes sure he eats right, learns something new every day, and rides safely in the car. Until a few months ago, Dawson, who weighs 42 pounds and is 42 inches tall, traveled in a booster seat. When his mom learned that, because of his age, Dawson would be safer in a 5-point harness, she moved him to a safer car seat and made sure it was installed correctly. Just a few weeks ago, Dawson was riding in the car with relatives when someone drove in front of them and caused a 45 mph crash, totaling both cars. One of the adults fractured her collarbone; another suffered a concussion. Dawson bit his tongue and was really scared – but he was unhurt. Dawson's mom says she is truly thankful she put him in the correct car seat. Because car seats are made to survive only one crash, she has already replaced his old seat and Dawson continues to travel safely in the car.
Dawson's story can happen to any child. It's important that every parent know how to keep their children safe on the roads. Here are some quick pointers to keep children safe at every age:
All infants and toddlers should ride in a Rear-Facing Car Seat until they are 2 years old or until they reach the highest weight/height allowed by the manufacturer. Rear-facing is the safest way to travel!
Children 2 years to at least 4 years old and 40 pounds should use a Forward-Facing Car Seat with a harness for as long as possible. Keeping a child who weighs more than 40 pounds in a harness is the safest practice, as long as the seat's weight limits are followed.
Children whose weight or height is above the forward-facing limit for their car seat should use a Belt-Positioning Booster Seat until the vehicle seat belt fits properly, typically when they are at least 4 feet 9 inches tall and are between 8 and 12 years old. Children using a booster seat should be able to sit reasonably still for an entire trip.
Children who are old enough and large enough to use the vehicle seat belt alone should always use both Lap and Shoulder Belts for the best protection. Children younger than 13 years should sit in the back seat.
Certified Child Passenger Safety Technicians (CPSTs) are trained to help caregivers make sure their children are traveling safely. Find a CPST near you at http://cert.safekids.org.
0