Cotton Planting Decisions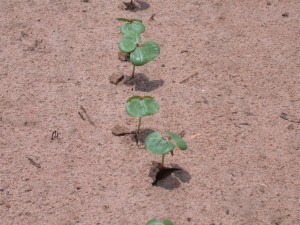 Cotton planting will soon be in full swing across the region. The first step to a successful season is to establish a healthy, uniform stand of 2 to 3 plants/ft of row. To ensure success growers should plant high-quality, broad-spectrum fungicide-treated seed into a firm, moist seedbed.
Temperature is critical to successful seed germination and early plant growth. Generally, it is safe to plant when the 4-inch soil temperature reaches 65° F and warming conditions are forecast for the next 5 days. Temperatures below 50° F can cause chilling injury to emerging seedlings. Planting into cold soils increases the likelihood of chilling injury and seedling disease resulting in weak, skippy stands, delayed maturity, and reduced yields.