By now, you may have seen the recent article stating alarming news about the beloved monarch butterfly population. Many gardeners in Florida enjoy planting for butterflies, observing the unique lifecycle of butterflies, and adding colorful flowers to their gardens. Milkweed is a critical plant for monarchs as it is their food source. If you have grown milkweed, you have certainly observed hungry monarch caterpillars devouring the leaves of your plants. But did you know it is best to plant native milkweed plants? Native milkweed will die back to the ground in the winter months, and that is important in supporting the migration of monarch butterflies. Dr. Jaret Daniels with UF/IFAS recommends a variety of native milkweed and stresses the importance of allowing the monarch population to move on, and not stay longer in certain areas than they naturally would. Native milkweed plants will bloom in the early spring as the butterflies return, making the plants in your yard a great "rest stop" along their journey!
In Florida there are a number of native milkweed species that can be grown, just select the one that grows best in your yard's conditions.
Asclepias tuberosa 
Vibrant orange flowers grow on this attractive milkweed spring through autumn. Asclepias tuberosa grows best in well-drained soils, sandy soils, and full sun.
Asclepias incarnata
Also called swamp milkweed, Asclepias incarnata prefers moist soils and sunny garden beds.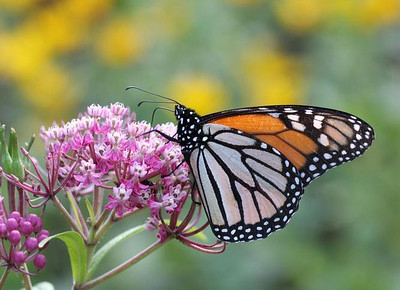 Asclepias humistrata
Pinewoods  milkweed is often found in sandhills and scrub habitat. It grows best from seed (like most native milkweed), and prefers dry, well-drained soils.
Many native plant nurseries carry native milkweed, UF/IFAS Extension Master Gardener Volunteers often sell it at plant sales, and friends and neighbors may even have seeds to share. Find out more about native Florida milkweed here.
What's the problem with tropical milkweed?
Tropical milkweed can be grown year-round in Florida, and thus supports a year-round monarch population. Which is NOT a good thing! These migrating monarchs need to move on in the winter months, and if there is a food source, like the tropical milkweed, supporting them, they might not leave.  That continued time may also result in an increase of OE, which is a disease caused by a parasite that is affecting the health of monarch butterflies.  Follow the guidance outlined in this blog post about monarchs and milkweeds.
Support butterflies in your yard!
Many sources offer guidelines on how to design, plant and maintain butterfly gardens. A few general tips to highlight:
* Try to supply enough foliage to feed your caterpillars. If you are just beginning, it is better to have multiple host plants of one species, rather than one each of differing species.
* Think of your whole yard as a butterfly garden! Locating host plants in different areas of your property will help decrease predators who learn quickly where there is a concentration of yummy caterpillars. Separating host plants also decreases territorial conflicts of butterfly species trying to dominate one area.
* Even butterflies who are listed to be in our area "all year" may have periods where they are more visible than others. Spring and fall seem to be the most active. In the summer they may leave to fly elsewhere; during cold weather they tend to move south.
* Remember to include nectar plants in your garden. Providing a diversity of host and nectar plants will encourage returning generations of butterflies, as well as other native pollinators!
* Always avoid the use of pesticides around your butterfly plants. When planning your garden, be aware of areas that pesticide over-spray from neighbors can reach and harm your butterflies (and all pollinators).
By planting host plants for a diversity of butterfly species, we can help protect the populations of not just monarchs but other beautiful and important species.
For general information, Butterfly Gardening in Florida
For information on specific butterflies (and other insects):
Featured Creatures
For information on native plants
For a listing of native plant nurseries in Florida
Preserving and protecting our native wildlife and plants is important, we encourage you to support natives in your yard.
For more information, contact UF/IFAS Extension Polk County at (863) 519-1041 or visit us online at http://sfyl.ifas.ufl.edu/polk. The Plant Clinic is open Monday-Friday, 9:00 am-4:00 pm to answer your gardening and landscaping questions. Give us a call, or email us at polkmg@ifas.ufl.edu.
If you are not in Polk County, Contact your local UF/IFAS Extension Master Gardener Volunteer Plant Clinic.
The Florida Master Gardener Volunteer Program is a volunteer-driven program that benefits UF/IFAS Extension and the citizens of Florida. The program extends the vision of the University of Florida/Institute of Food and Agricultural Sciences, all the while protecting and sustaining natural resources and environmental systems, enhancing the development of human resources, and improving the quality of human life through the development of knowledge in agricultural, human and natural resources and making that knowledge accessible.
An Equal Opportunity Institution.
1