This blog post is a collection of questions that Lara Milligan and myself (Shannon Carnevale) have received about owls common to Florida. These answers may be updated over time, but will be linked to more information where relevant.
Q.1. We have a family of screech owls living in our backyard now (mom, dad, and 3 owlets). Is there a way to attract them via a nesting box, and when should a nesting box be put up to be most effective?
A.1. Nesting boxes are a great way to attract a family of eastern screech owls (ESO); however, it is unlikely you will be able to attract a second family to your yard unless it is a large property. Male screech owls are territorial and will defend their small territories from other male ESOs. If you already have a family of ESO, you could put up a nest box to see if you could tempt the family to move into it next breeding season or as backup nesting site, but if they're are successfully raising young, they must have found suitable natural habitat in your yard! Congratulations on your wildlife friendly yard!
For information on building a screech owl house, click here. For information on helping cavity nesters in Florida, click here.
Q. 2. Do great horned owls hunt barred owls?
A. 2. Yes! From a predator standpoint, the great horned owl is a significant threat to barred owls. As you may remember from our webinar, barred owls are territorial. When a great horned owl enters their territory to hunt, the barred owl will move to another area of their territory to avoid becoming a prey item.
A. 3. Great question! For all the species we covered during our Wildlife Webinar, except the burrowing owl, you're most likely to hear them after dark. This includes the great horned owl, the barn owl, the barred owl, and the eastern screech owl. The burrowing owl is active during the day and night, and so you might hear them calling at any hour. Local populations may be more active during specific time frames due to weather – so you may want to ask a local owl enthusiast what their experiences have been.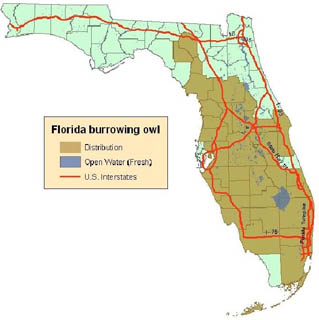 Q.4 Does North East Florida, Jax Beach area, have burrowing owls?
A. 4. According the the range map prepared by Florida Fish and Wildlife Conservation Commission (FWC), I would not expect to see burrowing owls in the Jacksonville area. Please see the map, to the left. If you click the map, you'll be taken to FWC's species profile of burrowing owls.
Q. 5. Do any of the species [in Florida] consume carrion?
A. 5. Yes! The great horned owl and the barred owl are known to eat carrion (or in other words, prey that is already dead), occasionally. That said, I would not be surprised to learn that all owl species in Florida eat carrion occasionally. Both the great horned owl and the barred owl are predominately hunters but, like most wildlife, they may eat a "free meal" when they come across one.
Q. 6. Does the presence of cattle have the potential to destroy the burrows for the burrowing owl?
A. 6. Unfortunately, yes, trampling of burrows can occur. However, the act of keeping cattle in an area will aid the burrowing owl too.
Due to their preferred habitat of open grasslands, burrowing owls are threatened by sprawling development and loss of habitat. Cattle grazing, as an agricultural operation, maintains the preferred habitat type for burrowing owls and for many other species who require open grasslands. For more information on this, see this 2008 report from the U.S.D.A. Environmental Impact Study of Medicine Bow-Routt National Forest.
Q. 7. We have a wood duck box on a pole at the water's edge in North Florida. Owls have ignored it. Would owls use it?
A. 7. Interesting question. There are many species of birds who use similarly sized cavities as other species; however, a wood duck nestbox isn't extremely similar to any of the nestboxes that Florida owls prefer for two main reasons. Before I begin, the recommended nestbox most similar to that of a wood duck is the nestbox for barred owls.
The first issue with a wood duck nestbox is the height at which it is mounted. Wood duck boxes are usually mounted 6-30 feet in the air but barred owls prefer their nestboxes between 12-15 feet above the ground. The good news is, you can accommodate that by simply moving the box. The second issue is not as easily remedied. The width of the recommended wood duck box is not large enough for the barred owl. Wood duck recommendations are for a box approximately 8 inches x 9 1/4 inches and for the barred owl, it is 13 inches x 13 inches. Additionally, the opening is too small on the wood duck box. For a barred owl to use it, the hole would need to be expanded to 7 inches in diameter.
You might be thinking, why didn't she just say "no"? The answer is, wildlife aren't always predictable and natural cavities aren't perfectly sized. If you have a wood duck box and would like to try and attract barred owls, go for it! It might work. I recommend:
Q. 8. Are the five common species of owls in Florida monogamous?
A. 8. The answer is mostly yes! Barred owls are thought to mate for life and great horned owls are thought to be monogamous. Barn owls usually mate for life and are monogamous, but there are some reports of multiple mates. Our other common species, the burrowing owl and the eastern screech owl are thought to be monogamous most of the time. Male eastern screech owls and burrowing owls may occasionally breed with a second female.
Q. 9. Is there a certain height that is best for nestboxes to be placed? Where can I get plans for nestboxes?
A. 9. Each species we discussed in our webinar has its own preferences when it comes to housing. Please see my list below for the recommended height to mount a nestbox and a link to some nestbox plans.
Sources:
0