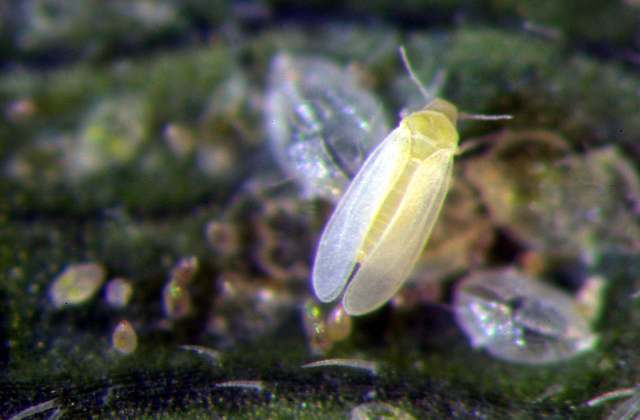 We have a serious whitefly issue developing in Florida.
We are having major issues managing 2 whitefly biotypes (B and Q). Both biotypes are referred to as Bemisia tabaci. The Q biotype has now been detected in landscapes.
Bemisia tabaci (Gennadius) feeds on more than 900 host plants and vectors over 111 plant virus species and is considered to be a major invasive species worldwide.
This is the VERY FIRST TIME it has been found in a landscape or outside a greenhouse or nursery since it was found on an ornamental plant in a greenhouse many years ago (2004-2005). This is extremely troubling considering the issues we have with many of the tools we use to manage whiteflies.
WE NEED THE HELP OF THE GENERAL PUBLIC AND ALL POTENTIALLY IMPACTED INDUSTRIES.
WHAT CAN YOU THE PUBLIC AND LANDSCAPERS DO?
Please be on the lookout for this very invasive pest. Be sure to check your new plant material prior to purchasing to help stop the spread of this new pest! Look for it in the landscape too!
Report any whitefly populations that seem to be excessively high and difficult to control to your local UF/IFAS Extension Pinellas office at 727-582-2100.
Sample submission specifics:
Infested leaves and dead insect specimens should be brought to local Extension offices for initial identification. Wrap in a dry paper towel and place in a sealable plastic bag and then in an envelope. Freezing the specimen overnight before transport is highly recommended. Only dead insects should be transported.
• The collection information should be included with the sample. Date, location, what type of vegetation is affected, number of suspected whiteflies, and any information about whether a pesticide has been used on the plant, is helpful information to managing the pest.
For steps on how to submit a sample to FDACS DPI, visit http://www.freshfromflorida.com/Divisions-Offices/Plant-Industry/Business-Services/Submit-a-Sample-for-Identification.
Please visit the main website about this new Q-biotype whitefly pest at http://mrec.ifas.ufl.edu/lso/bemisia/bemisia.htm
0