Meloidogyne spp. (root-knot nematodes, RKN) are associated with decline in a global crop yields. They are the most economically important nematode species, and are difficult to get rid of when you accidentally introduce them into your field or garden.
Meloidogyne enterolobii (Yang and Eisenback, 1983) is a highly virulent member of this group that attacks several field crops and horticultural plants. This nematode originated from China, and was first shown to cause damage to roots of pacara earpod tree (Enterolobium contortisiliquum).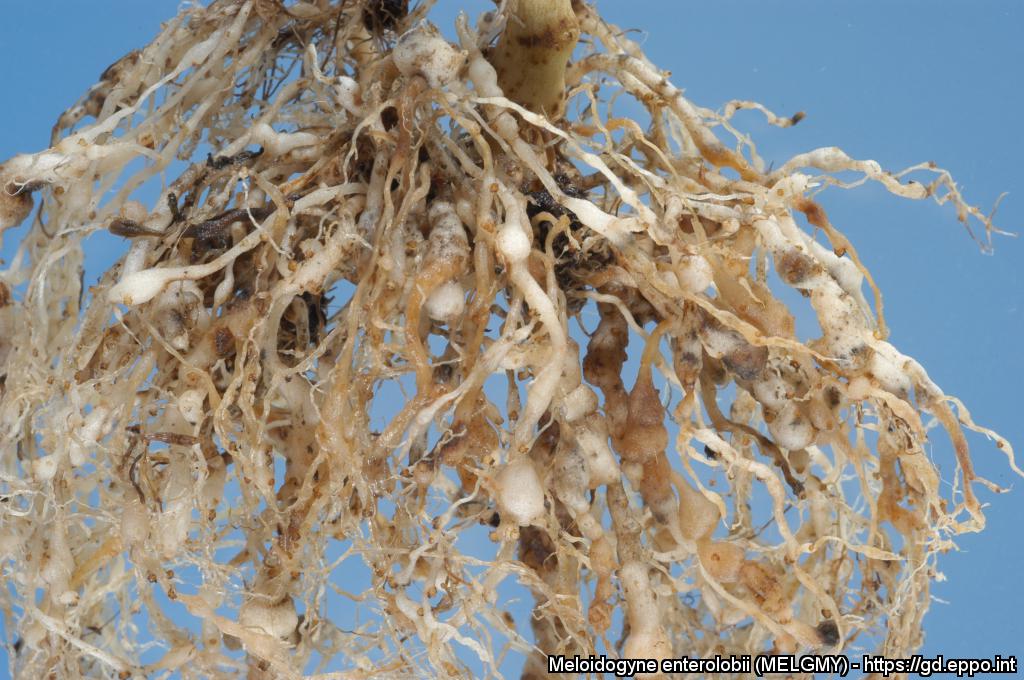 The nematode borrows its species name (enterolobii) from the genus of the pacara earpod tree (Enterolobium). Later descriptions of this species from other locations in China were in association with guava (Psidium guajava).
M. enterolobii has the unique ability to 'break' or overcome RKN resistance genes in some crops. This is one important reason the threat from M. enterolobii could be concerning. This nematode can cause a considerable reduction in crop yields and market value of crops.
The first report of M. enterolobii in the continental USA was in Florida (2004), then in North Carolina (2013), and found on RKN-resistant cotton and soybean. A 2018 study in South Carolina showed that M. enterolobii can cause damage to RKN-Resistant Sweetpotato.
Also, there was a recent report of M. enterolobii causing injury to the roots of swiss chard (Beta vulgaris), in an organic garden in Alachua County, Florida. Additionally, galled roots collected in October 2019 from declining Japanese blueberry, Elaeocarpus decipiens, in Hernando County, Florida tested positive for M. enterolobii.
M. enterolobii constitutes a significant threat to Florida agriculture, and states like Arkansas, Louisiana and Mississippi currently regulate this nematode pest.
If you suspect you have M. enterolobii in your field/garden or you have questions about reporting what you have found, please contact the Division of Plant Industry at DPIHelpline@FreshFromFlorida.com or 1-888-397-1517.
Additionally, you could use the online form, and follow the instructions provided by FDACS-DPI to submit the root samples for identification.
0