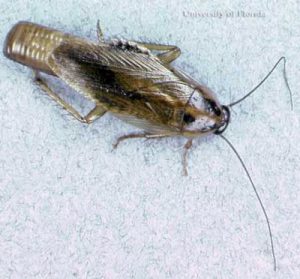 The Asian cockroach was first identified as a newly introduced species in the U.S. in Lakeland, Florida in 1986. I started seeing this small cockroach in our area about 17 or 18 years ago. They've done well recently with the rains and their numbers are probably higher now as a result. They prefer warm, wet conditions. Populations of 30,000 to 250,000 per acre are reported in some literature.
They are mostly active at night, hiding in mulched landscape beds and lawns during the day. It's not uncommon to disturb them as you walk through or hand water mulched plant beds during daytime hours. When doing so, the little roaches, which may be mistaken for small moths, quickly fly as they are disturbed.
Asian cockroaches occasionally fly into homes or automobiles at night, attracted to lights. Thankfully, they don't live long indoors, though.
Control is difficult. Because they can fly 120 feet or more in a single flight, large areas around a home require treatment. And cockroaches in surrounding untreated areas (lawns, mulched plant beds and nearby woods) may result in re-infestation.
Traditional indoor treatments are ineffective because Asian roaches don't typically live and breed indoors. The best control has been attained by using insecticide baits (labeled for roach control) in infested areas outdoors. Always follow the label directions and precautions when using any pesticide, including insecticides.
Sodium vapor lamps for outdoor lighting and yellow incandescent bulbs for porch lighting are less attractive to the flying adults.
Both the German and Asian cockroach adults are about 5/8 inch long and are brown to dark brown in color with two darker parallel bands running lengthwise just behind their head. But unlike the German cockroach, the Asian cockroach is a strong flier. Even though German cockroaches have wings, they do not fly. Also, unlike the German cockroach, which prefers to live indoors and is a major household pest as a result, the Asian cockroach prefers to live outside.
For more info on this roach species, visit the below UF/IFAS Extension EDIS website.
http://edis.ifas.ufl.edu/in277
0