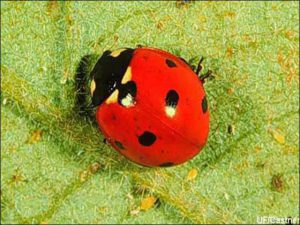 A number of summers ago, I noticed whiteflies on a confederate rose plant in my landscape. I considered using an insecticide to control the whiteflies but decided against doing so after taking a closer look. What I found was a population of ladybugs – eggs, larvae, pupae and adults.
Ladybug adults and larvae eat whiteflies, as well as other soft-bodied insects such as aphids. So, I waited to see what would happen.
At first I was seeing mostly adult whiteflies, which look like tiny white moths. Adult whiteflies mate and then lay eggs on the underside of leaves. The eggs hatch into flat translucent scale-like nymphs that suck the "juice" from the underside of the leaves.
Eventually, some of the leaves developed a black coating called sooty mold. As certain insects (primarily aphids, some scales and whiteflies) feed, they excrete plant sap that coats the leaves. Sooty mold then grows on this sugary sap. It's not a pathogen. It just makes the leaves look ugly.
Knowing that the whiteflies would not kill the confederate rose, I was willing to tolerate the sooty mold and allow the ladybug population to build.
Allowing whiteflies to live on your plants may not always be the best option. But in order to have beneficial insects in your landscape, there must be some "bad" insects for them to eat.
Insects such as ladybugs, lacewings and praying mantises eat many pest insects. Encouraging these beneficial insects can allow you to reduce the amount of pesticides applied.
It's important to learn to recognize the adult and immature stages of these beneficial insects. Ladybugs have larvae that look nothing like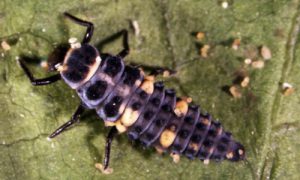 the adults. Some ladybug larvae look like small orange and black alligators. Others may resemble mealybugs. Many gardeners that would never kill adult ladybugs mistake their larvae as pests and kill them with insecticides.
The following UF/IFAS Extension website will help you learn to recognize many of our beneficial insects. http://edis.ifas.ufl.edu/topic_beneficial_insects
Once you find beneficial insects in your landscape, reduce or eliminate the use of insecticides. When an insecticide is needed, use environmentally friendly options such as insecticidal soaps, horticultural oils and products that contain Bacillus thuringiensis (Bt).
Sometimes a heavy stream of water from a water hose is all that is needed to remove pest insects from plants and reduce their numbers to an acceptable population.
Remember, leaving a few pest insects is a great way to attract beneficial insects. Tolerating a minor infestation and a little plant damage will benefit the helpful insects, your pocketbook and the environment.
0