Fall is a good time to evaluate your landscape, learn from what has and what has not worked and formulate plans to improve your landscape.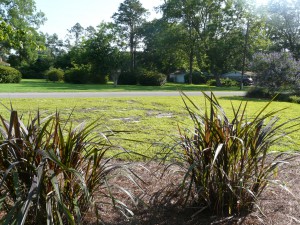 Before your lawn and landscape plants go dormant, do a walk through of your landscape, make notes if necessary and visually inspect the plants. You get to see the plants that did great as well as the plants that were not so successful. You can make decisions on which plants to do away with, which to keep, which that might benefit from being moved to a more appropriate location, etc.
As you inspect your landscape, ask yourself questions. You can easily identify problem areas in the lawn now. As you identify problem areas in the lawn, attempt to determine why those areas aren't doing so well. Begin formulating plans for correcting/improving those problem areas. Decide if renovating and replanting with grass is your best option. Or, something other than grass may be the best option, particularly if there is a history of problems with grass in a specific location.
It may be time to remove and replace an older, declining plant with something new. There may be a plant that hasn't performed up to par but that would do better if moved to a more appropriate location – fall is a great time to relocate plants. Now is a good time to take a soil sample and take the guesswork out of liming or fertilizing. The UF / IFAS Extension Office in your County can provide information on how to have your soil tested.
This only represents a few ideas related to evaluating your landscape. You'll probably think of many more as you're out in the landscape. Taking notes will allow you to implement your ideas later.
Not only is fall a great time to enjoy the outdoors, there's much that we can learn from our own landscapes this time of year. We can gather Information that will allow us to improve our own landscapes.
0