Formosan Termites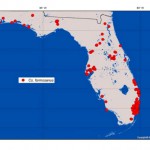 As the ant and termite swarm season begins, here is one species to be aware of.
The red dots on the map indicate the known distribution of the Formosan subterranean termite, Coptotermes formosanus Shiraki, in Florida, as of 2013. Figure by Rudolf Scheffrahn, University of Florida.
Formosan subterranean termite (FST) acquired its name because it was first described in Taiwan in the early 1900s.
Formosan subterranean termite, Coptotermes formosanus, is the most widely distributed and most economically important wood destroying insect. In the city of New Orleans where this termite species was introduced in the 1950's, the control and repair costs due to FST are estimated at $300 million annually. A single colony of FST may contain several million termites (versus several hundred thousand termites for native subterranean termite species) that forage up to 300 ft in soil. Because of its population size and foraging range, the presence of FST colonies poses serious threats to nearby structures. The FST generally invades structures from the ground. They commonly enter through expansion joints, cracks and utility conduits in slabs. Any wood-to-ground contact is an inviting entrance for FST infestations.
Studies also found that FST attack many species of living plants. The FST attacks structural lumbers and living plants because they are sources of cellulose. However, this termite is also known to attack non-cellulose materials such as plaster, plastic, asphalt, and thin sheets of soft metal (lead or copper) in search of food and moisture. The combination of water and wood or other cellulose materials provide attractive conditions for the FST. Leaky plumbing, air conditioning condensate, and any portion of the building that may collect excessive amounts of moisture should be corrected to maintain an environment less attractive to FST.
Conventional method for control of subterranean termites, including the FST is to place a chemical barrier between termites and the structure to be protected. Because of the large size of a FST colony, application of soil termiticide beneath a structure may not impact the overall population. Bait stations containing a monitoring device can be first installed in soil surrounding a home. When termites are found in the station, the monitoring device is replaced with a tube containing pesticide bait. Termites feeding in the stations then carry baits to other members of a colony, leading to the demise of entire colony population.
All baits are to be applied by trained pest control professionals. Efficacy and claims of these commercial bait products may differ from one another. It is prudent to read the fine print and ask questions. Many new Florida residents are unfamiliar with homeowner insurance related to Formosan termite damage. If you want to learn more, plan on attending one of the local workshops listed in the link below.