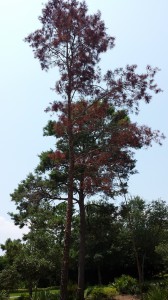 Pine bark beetles are frequent pests of stressed pines in the southern United States. The five most common southern pine bark beetle species include three in the genus Ips. Ips beetles usually colonize only those trees that are already stressed, declining, or fallen due to environmental factors. Infestations may occur in response to drought, root injury, disease, lightning strikes or other stresses including flooding.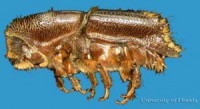 Ips calligraphus usually attacks the lower portions of stumps, trunks and large limbs greater than 4" in diameter. Early signs of attack include the accumulation of reddish-brown boring dust on the bark, nearby cobwebs or understory foliage. Ips calligraphus can complete their life cycles within 25 days during the summer and can produce eight generations per year in Florida. Newly-emerged adults can fly as far as four miles in their first dispersal to find a new host tree, whichever one is the most stressed.
Most trees are not well adapted to saturated soil conditions. With record rainfall this past April, the ground became inundated with water. When the root environment is dramatically changed by excess moisture, especially during the growing season, a tree's entire physiology is altered, which may result in the death of the tree.
Water saturated soil reduces the supply of oxygen to tree roots, raises the pH of the soil, and changes the rate of decomposition of organic material; all of which weakens the tree, making it more susceptible to indirect damage from insects and diseases.When the ground becomes completely saturated, a tree's metabolic processes begin to change very quickly. Photosynthesis is shut down within five hours; the tree is in starvation mode, living on stored starches and unable to make more food. Water moves into and occupies all available pore spaces that once held oxygen. Any remaining oxygen is utilized within three hours. The lack of oxygen prevents the normal decomposition of organic matter which leads to the production and accumulation of toxic gases such as carbon dioxide, methane, hydrogen sulfide and nitrogen oxide. Additionally, within seven days there is a noticeable root growth loss. Roots only develop when soil oxygen levels are at 5% -15%. Over time, the decaying roots are attacked by pathogens. The loss of root mass from decay and fungal attack leaves the tree prone to drought damage. After only two weeks of saturated soil conditions the root crown area can have so many problems that decline and even death are imminent.
When a tree experiences these anaerobic soil conditions it will exhibit symptoms of leaf loss with minimal to no new leaf formation. This usually appears two to eight weeks after the soil dries out again. Many trees will not survive, especially the more juvenile and mature trees. However, well established trees may still decline several years later, if they experience additional stresses such as drought or root disturbance from construction.
There is little that can be done to combat the damage caused by soil saturation. However, it is important to enable the tree to conserve its food supply by resisting pruning and to avoid fertilizing until the following growth season. Removal of mulch will aid in the availability of soil oxygen. Basically, it is a "wait and see" process. While water is essential to the survival of trees, it can also be a detriment when it is excessive, especially for drought tolerant pine species such as Sand Pine, which is prevalent throughout the coastal areas.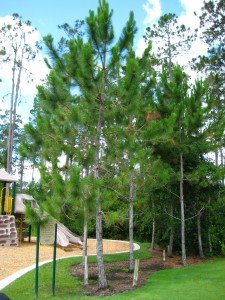 For urban and residential landscape trees, preventative strategies to avoid tree stress and therefore reduce the chances of infestation include the following:
1) avoiding compaction of, physical damage to, or pavement over the root zones of pines,
2) providing adequate spacing (15-20ft) between trees,
3) minimizing competing vegetation beneath pines,
4) maintaining proper soil nutrient and pH status and
5) limiting irrigation to established pine areas.
When infested trees are removed, care should be taken to avoid injury to surrounding pines, which could attract the more harmful pine bark beetle species Dendroctonus frontalis, the Southern Pine Bark beetle.
There is no effective way to save an individual tree once it has been successfully colonized by Ips beetles. In some cases, the application of an approved insecticide that coats the entire tree trunk may be warranted to protect high-value landscape trees prior to infestation. UF/IFAS Extension can assist with recommendations.
0