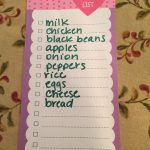 Grocery shopping is probably one of my least favorite weekly chores. I have a family of picky eaters and it's difficult to find healthy meals that please everyone. I can think of a million ways I'd rather spend my time than navigating the aisles of a crowded grocery store and standing in a long check-out line surrounded by countless "closed" registers. Why aren't there ever enough open check-out lines?
I must not be alone. I hear more and more friends choosing stores with curbside pick-up service or online grocery shopping services. Many of the major grocery store chains are testing curbside pick-up service; you'll need to check with your local store to see if this option is available in your area. Online delivery services like Shipt and Instacart may be available if curbside service isn't an option at your local grocery store.
If you choose to do your grocery shopping online, be sure to shop around and pay attention to and compare item prices, delivery or pick up fees, membership fees, shopper or delivery tips, and other convenience fees. Regardless of your selected service, there is an extra cost for this convenience.
No matter how you choose to buy your groceries, all of the old rules apply:
Plan your weekly meals. Write some weekly meal plans with your schedule in mind. Choose some meals using recipes that are quick and easy to prepare for busy days. Use the USDA Game Plan to help you.
Find easy to prepare, healthy recipes. Use the USDA What's Cooking website to find healthy recipes.
Know your food budget. Planning and cooking meals at home saves money over eating out. Meals prepared at home often are healthier, especially if you are preparing recipes low in fat and sodium. Track your food dollars to see how much you are spending and saving.
Plan to use leftovers. Make double batches of soups and stews, setting aside some to freeze for later use. Freeze leftovers in single portions to use for lunch or your own ready-to-eat freezer meals throughout the week.
Pack your meals with fruits and vegetables. Plan ahead to make half of your plate fruits and vegetables. Buy fresh fruits and vegetables in season. Buying canned and frozen fruits and vegetables can save money but watch for added fat, sugar, or sodium. Bananas, carrots, greens, potatoes, and apples are low-cost options year 'round.
Create your shopping list – and stick to it! Use your meal plan to create a shopping list. Remember to check what you already have on hand. Avoid impulse items and convenience items, which can add to your food costs. A list helps you organize the items you need to buy and helps you avoid impulse buys or unneeded items that can add to your food costs.
For more information on creating healthy meals, contact your local Extension office. UF/IFAS Extension also has this great publication on Healthy Meal Plans.
0