Jose Dubeux and Liza Garcia, University of Florida – North Florida Research and Education Center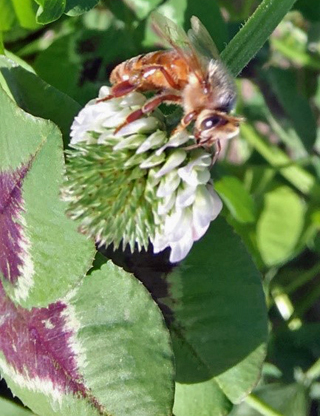 Improved forages are not only good for livestock, but they can also help feed bees! Managing grasslands to enhance bee habitat requires similar management practices to those needed to enhance pasture for grazing livestock. Diversification of pasture species, management to increase the flowering period, and proper grazing management (no overgrazing) are key practices to enhance habitat for bees (Figure 1), and other native insects that also provide plant pollination. These practices are also important to improve livestock performance and sustainability of grasslands.
Bees are the primary pollinators and they benefit 1/3 of the world's crop-based production. Bee populations are declining, affecting plants that rely upon them. Reasons for bee decline are diverse, and include land-use change leading to loss and fragmentation of habitats, agriculture intensification, pesticide application and environmental pollution, decreased resource diversity, alien species, the spread of pathogens, and climate change.
Both livestock and bees benefits from forage legumes. Cattle perform better on grass-legume mixtures compared to grass monocultures, because of the greater digestibility and crude protein found in legumes when compared to grasses. Legumes also add nitrogen to pastures via biological N2-fixation (BNF), enhancing forage productivity, and ultimately, stocking rate and gain per area. Bees benefit from legumes because of the flowers they feed on (Figures 2 and 3). Bees do benefit from grass flowering as well, however, diversifying the forage species also improves bee diet, providing opportunities for selection and improved nutrition.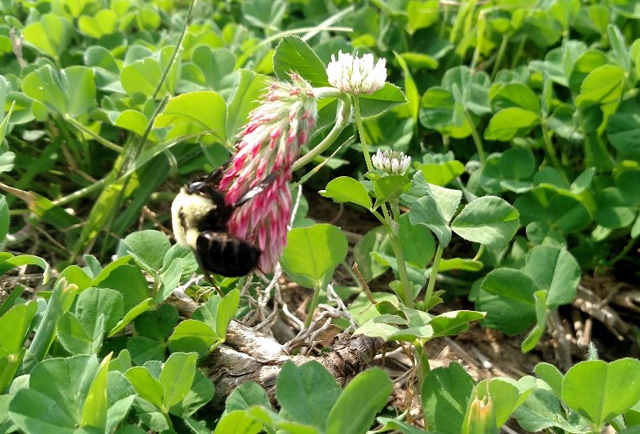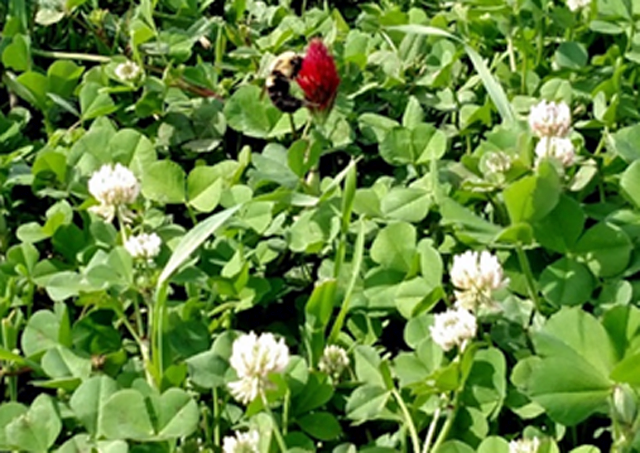 At the UF-IFAS North Florida Research and Education Center in Marianna, researchers are assessing the bee population on grass monocultures and grass-legume mixtures, under grazing conditions. For the grass-legume system, they are evaluating a bahiagrass-perennial peanut mixture during the warm-season, overseeded with rye, oats, and a blend of crimson, red, and ball clovers in the cool-season. The grass monoculture system they are comparing is bahiagrass during the warm-season, overseeded with rye and oats during the cool-season. Over the last two years, they have been putting out traps for 24 hours and collecting bees every 28 days in these contrasting grazing systems (grass vs. grass-legume pastures). Thirteen bee species were already identified, including 11 native bee species. Native bees are extremely important, since they are generally better pollinators than honeybees. Wild native bees are mostly pollen collectors and help pollinate many of our agricultural crops, maintain productivity, and plant diversity. Adding forage legumes increased the flower density (flower number per unit area). As a result, some of the bee species occurred more frequently in the grass-legume system as compared to the grass monocultures (Figure 4).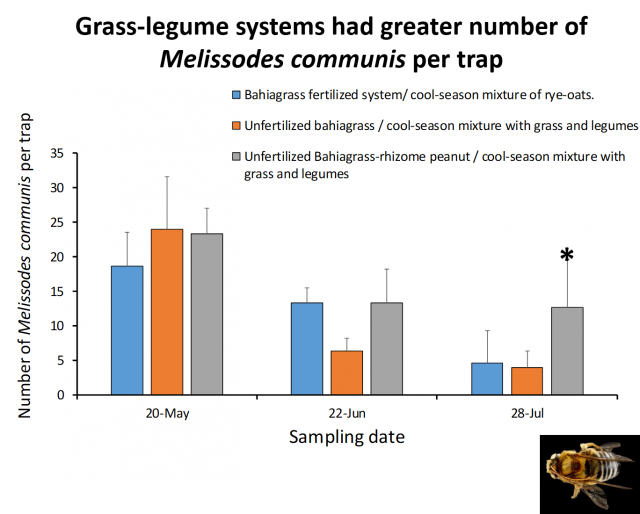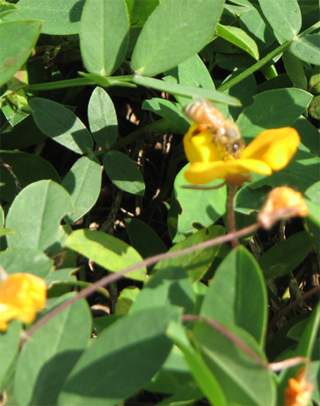 Take home message
Bees and livestock might have more in common than you think! They both need a diverse forage diet, so adding forage legumes to the pasture benefits bees and livestock. Adding forage legumes extends the flowering period benefiting native bees. Legumes enhance cattle performance because of greater nutritive value. Enhancing bee habitat will also have a positive cascade effect on crop pollination over the long-term, enhancing crop productivity as a result. This win-win situation also benefits the environment. Cool-season forage crop planting time is here, so this is a good opportunity to integrate clovers into your grazing system. Perennial Peanut is the most productive warm-season perennial legume for Florida. Researchers at UF/IFAS are developing techniques to integrate perennial peanut into bahigrass pastures as well. The investment to add legumes into your grazing operation is worth making just for the improved animal performance, but it will also enhance the habitat for pollinators that are so important for the environment and our food systems.
More information related to this topic:
—
0