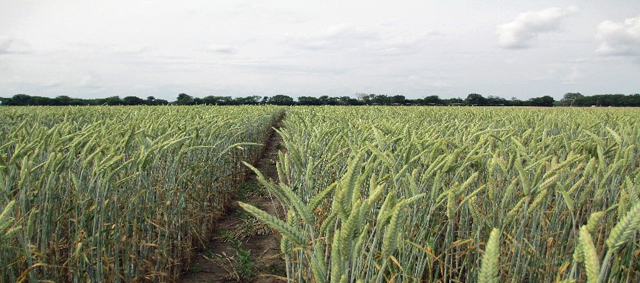 Ann Blount, Cheryl Mackowiak, Nick DiLorenzo and Jose Dubeux, UF/IFAS NFREC Marianna
Triticale is a winter forage that is gaining in popularity in the Southeast. The name might sound unfamiliar (pronounced trit-i-kay-lee), but it has become increasingly sought after in recent years. Dairy farmers in the Southeast have had success using triticale for silage production. Beef cattle producers are beginning to use triticale in blends with other winter forages, especially ryegrass.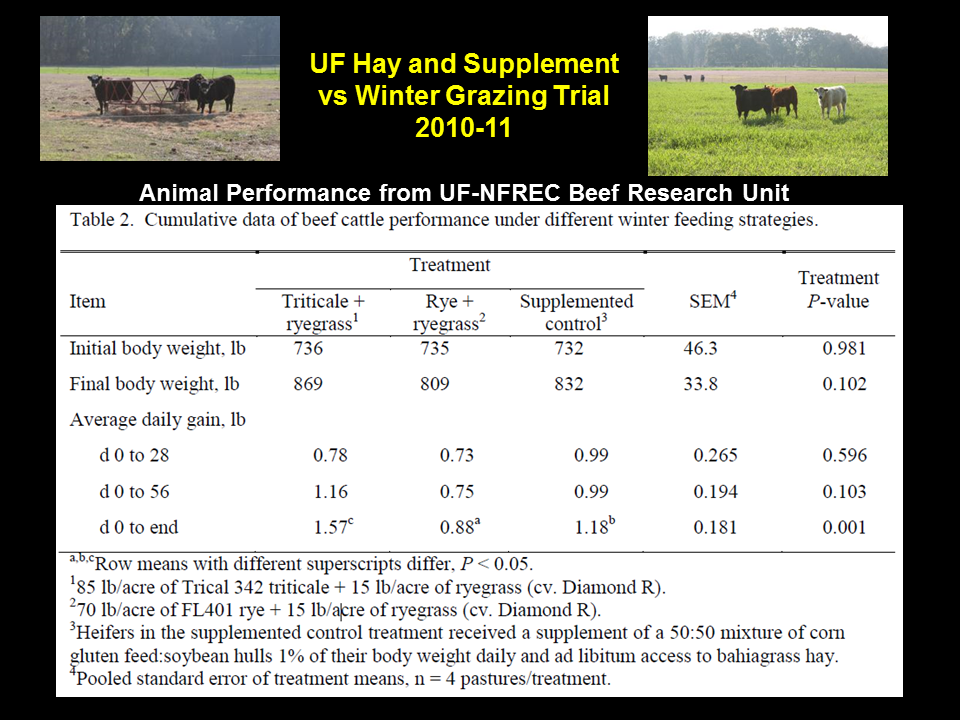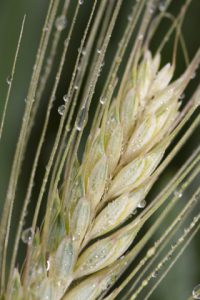 So what is triticale?
Triticale is a man-made hybrid derived from crossbreeding the small grains wheat and rye. This well-adapted plant has a long breeding history in Florida. It has real potential for use as grain, feed, fuel, forage, wildlife food-plot, and cover crop, yet it has been under-utilized until recently. Since the plant has both rye and wheat as its parents, it benefits from having the disease resistance of rye, coupled with the seed and forage quality of wheat. Triticale is more cold tolerant than oats, and rarely suffers the same degree of freeze damage as oats. Triticale has excellent rust and good Barley Yellow Dwarf Virus (BYDV) resistance; two diseases that often reduce oat yields. Triticale also seems to tolerate our acid, sandy soils better than wheat or oats.
The digestibility, water soluble sugars, and forage productivity are similar to that of oat and cereal rye, and triticale is also tolerant of droughty, lower fertility soils. While we have not yet identified the responsible chemical component(s), recent work at the NFREC-Beef Unit have shown increased cattle weight gains when stockers grazed triticale-ryegrass, similar to that of rye-ryegrass or oat-ryegrass in mixed sward pastures over a two-year period (Dubeux et. al 2016). This is consistent with findings of increased yields in milk production reported by Bill Smith, Northern Seed.
Currently, only two triticale varieties are recommended for use as forage, Trical 342 and Monarch, both developed at the North Florida Research and Education Center. Trical 342 is also being used in the Southeast as a cover crop by row crop farmers, especially for cotton. A more recent triticale release from North Carolina State University appears adapted to this region; however, the lack of seed availability has been a limiting factor for its use. A new awnless cultivar will also soon be available in the Southeastern seed market from Northern Seed, LLC.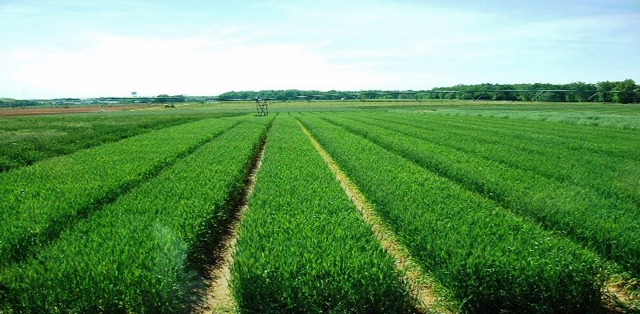 The Florida Department of Agriculture has been promoting best management practices (BMPs) to reduce nitrogen (N) and phosphorous (P) contamination of water resources. Florida dairies and concentrated beef cattle areas have long been under close scrutiny for N and P application on crop and pasture land. Consequently, researchers at the University of Florida have been actively evaluating the nutritional content and P and N uptake by triticale, as well as other small grains, grown for silage and greenchop on dairy operations and beef cattle operations. Small grains, such as triticale, in a mixture with ryegrass used for grazing can extend the growing season, from winter into early spring. The recent release of FL01143 from the NFREC will be the first forage-type, awnless triticale commercialized for the Southeastern U.S. and will work well as an early silage or wildlife forage crop. Researchers are also testing other potential forage-type triticale in regional trials across a number of southern states.
If you are interested in trying trying triticale, order seed in late summer to assure seed availability for fall planting. In the past, triticale seed supply has been limited, but a greater supply is expected for 2017, as commercial seed production has greatly increased. If you have questions about triticale or any forage variety options, please contact your local UF/IFAS County Extension office.
For more information on triticale, read the following UF/IFAS publication:
0