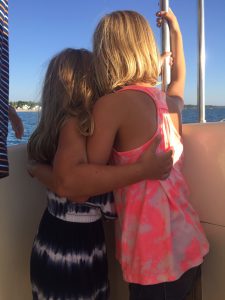 This will be my sixth Mother's Day, so I am not an experienced mother by any stretch of the imagination. As a Family and Consumer Sciences Extension Agent, I am fortunate to have plenty of coursework and some practical experience in working with children– but real life is different. Here are a few of the things I have learned – from coursework and just a little bit of experience:
Every stage of childhood brings a new joy and a new challenge. Understanding child development can help parents know what to expect and how to handle challenges. Extension is a great resource for child development. We have fact sheets on all ages and stages of development. You can find them in our Electronic Data Information Source (EDIS) publications. Search them here: http://edis.ifas.ufl.edu/topic_child_development
Finding effective discipline techniques and sticking to them also is a challenge. Children need consistency. I have found that focusing on good behavior and having clear, consistent rules makes life much more peaceful. Now that my child is in school, we use a simple chart with just two or three items and use colored dots, similar to what my daughter is used to in school. This keeps it consistent and focused on the positive behaviors I want to see. My daughter is excited to earn privileges and the reward of good behavior dots or stickers. Our UF/IFAS Extension site has some great ideas for discipline too. Find them here: discipline resources.
Children need routines. I think adults do, too. Having a routine and sticking to it helps children know what to expect. Those family rituals and traditions are just as important for building family stability and a sense of belonging. They make for great family memories! Don't forget to make time for bedtime stories, making cookies, or for family celebrations, like Mother's Day.
I am not an expert at parenting. I have made mistakes, some big, some little. When I do need expert advice, I go back to what I have learned from my work in Extension. Extension has all the research-based information you can trust on parenting and a variety of other topics. Check it out: edis.ifas.ufl.edu.
0