Ann Blount, Jay Ferrell, Anthony Drew, Jose Dubeux, and Cheryl Mackowiak (in cooperation with Johnny Melton, Jack Melton Family, Inc.)
Brunswick grass (Paspalum nicorae Parodi), sometimes referred to as "Brown seeded paspalum," is becoming a problematic weed in summer perennial grass pastures in the southeast. Brunswick grass is a perennial summer grass, with a similar growing season and appearance to that of bahiagrass. This plant is native to South America and was introduced as a soil conservation plant for erosion control and as a potential forage crop. This plant has become naturalized and has contaminated some bahiagrass pastures and more significantly seed production fields in Florida, Georgia, and Alabama.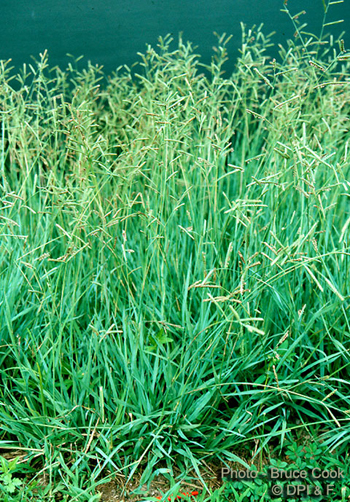 Brunswick grass is competitive with bahiagrass and bermudagrass. Cattle will consume Brunswick grass when it is young and tender, however, it quickly becomes rank and loses its palatability, causing cattle to avoid grazing it. Since it is less palatable, the plant gains a competitive advantage and will eventually dominate in perennial grass pastures. Brunswick grass has reportedly contaminated bahiagrass seed fields and pastures in several Florida counties, including Gilchrist, Levy, Alachua, Citrus and Sumter.
The seed of Brunswick grass is close in size to that of Pensacola bahiagrass. This has made it difficult for bahiagrass seed processors to effectively eliminate Brunswick grass to meet total weed seed specifications (2.0 %) for saleable seed. Brunswick grass is more easily removed from Argentine than Pensacola bahiagrass due to greater seed size differential.
The best method to stop the spread of Brunswick Grass is to avoid harvesting seed from pastures contaminated with this grass weed. Seed producers must scout for Brunswick grass prior to seed harvest, to avoid the further distribution of this weed. To our knowledge, no herbicides currently exist that will selectively remove Brunswick grass without severely injuring or killing the desirable pasture grasses. Therefore, high rates of glyphosate should be utilized to kill the pasture as the first step of total renovation. Mechanical cultivation alone may not eliminate Brunswick grass. Mechanical cultivation, in addition to herbicides and crop rotation, should provide successful control of Brunswick grass, since seed survival in a seed bank is not believed to be long-term.
It is important to remember that large quantities of bahiagrass seed are sold without any field inspections for purity, resulting in the sale of contaminated seed for use in new pasture plantings. When purchasing seed to establish new pastures, purchase only from reliable seed sources.
It is very important that livestock producers and bahia seed harvesters learn to identify Brunswick grass. If producers are considering seed production, fields should be scouted for Brunswick grass first, before making the investment in additional fertilization needed for optimal seed production. Seed harvesters should also become familiar with this grass weed to avoid contamination. The following are comparisons of Brunswick grass and Pensacola bahia. If you need help positively identifying this grass, work with your County Extension Agent. If needed, they can have samples sent in to the University of Florida Herbarium for positive identification.
Brunswick grass is a perennial summer grass, with a similar growing season and appearance to that of Pensacola bahiagrass (Fig. 1).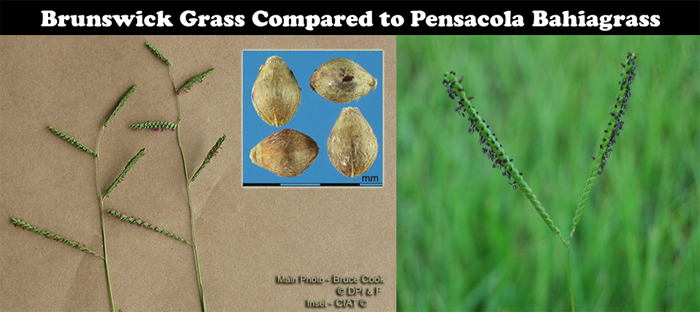 It has a deep and aggressive rhizome system that appears very different from bahiagrass rhizomes (Fig. 2).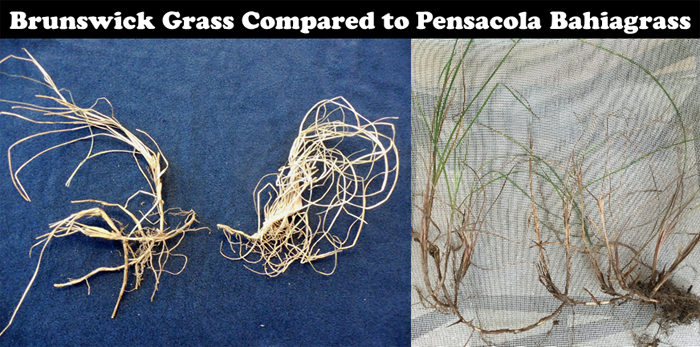 Brunswick grass seed are slightly smaller than that of Pensacola bahiagrass, and the seed coat has a dark, chestnut brown center that varies somewhat in size by variety (Figs. 3 and 4).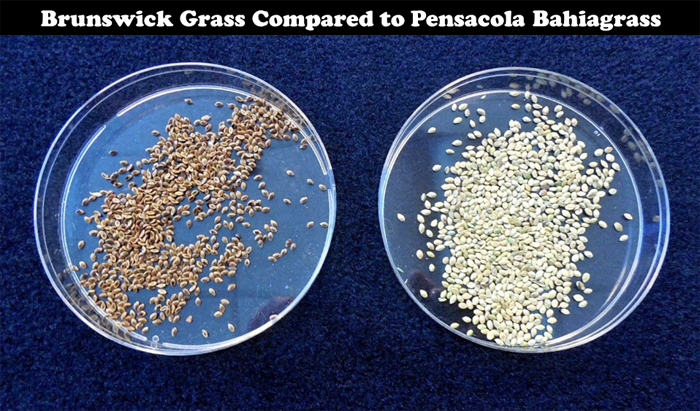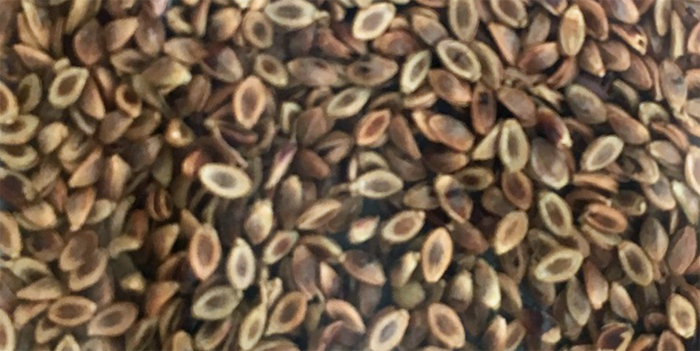 For more information on Brunswick Grass:
0