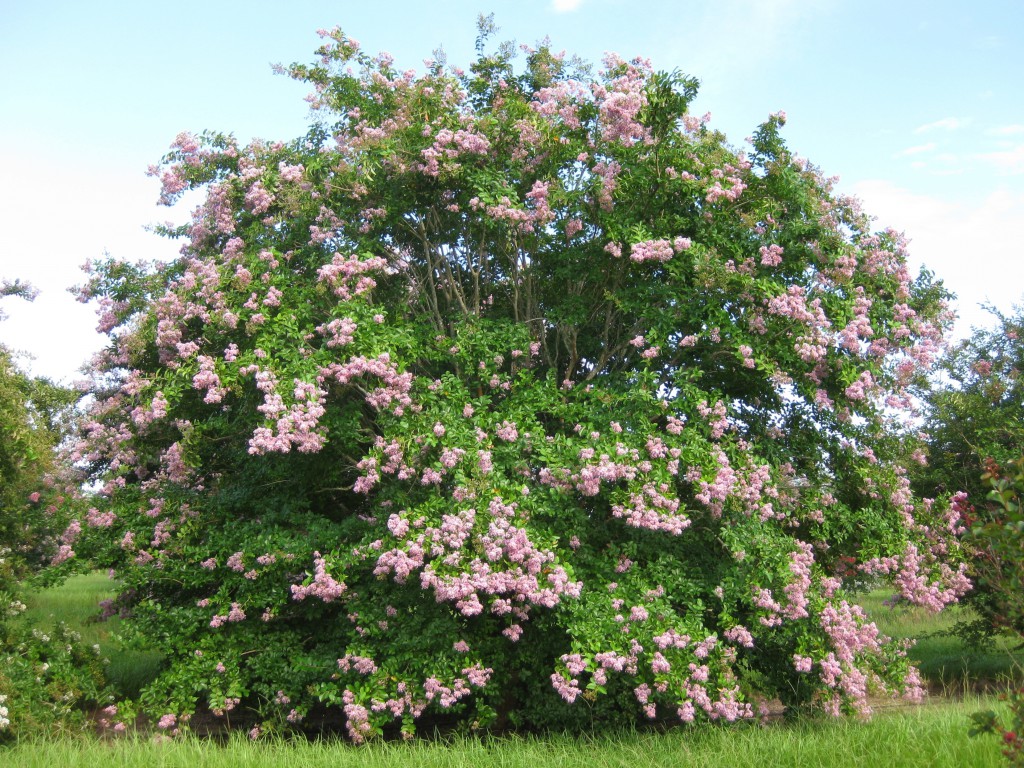 Crapemyrtle flowering is set to be spectacular this year! While most other garden plants droop from summer's heat, humidity and heavy rains, crapemyrtle thrives and puts on an outstanding show of flowers all summer and fall. Thanks to modern breeders, we have all sizes of improved hybrid crapemyrtles with flower colors of lavender, purple, white, pink, or red.
Just say "No" to Pruning
Crapemyrtle varieties come in tree-size, patio tree and shrub categories. Tree-size crapemyrtles grow 25 ft. tall and are ideal as flowering trees. Patio tree-form plants (up to 12 ft.) are beautiful as small, flowering specimen plants near patios, walkways, and entrances. Shrub forms (up to 6 ft.) make excellent accents in a shrub border and smaller types are effective as large groundcovers or container plants. Make sure you buy the right size crapemyrtle for your home. Don't make the mistake of planting a tree-size crapemyrtle in an area too small for its ultimate size, or you'll find yourself pruning it hard – and often – to keep it from out-growing its place.
Recommended Varieties
Some of the best tree-size (25 ft.) types are Natchez (white), Red Rocket® (red), Sioux (pink) and Apalachee (lavender). Superior patio tree crapemyrtles (12 ft.) are Acoma (white), Cheyenne (true red), Tonto (fuchsia red), Hopi (pink) and Catawba (purple). Smaller shrub (6 ft.) crapemyrtles are hard to find, but Cherry Dazzle® is a nice mounding red and Pixie White and New Orleans (purple) are good selections.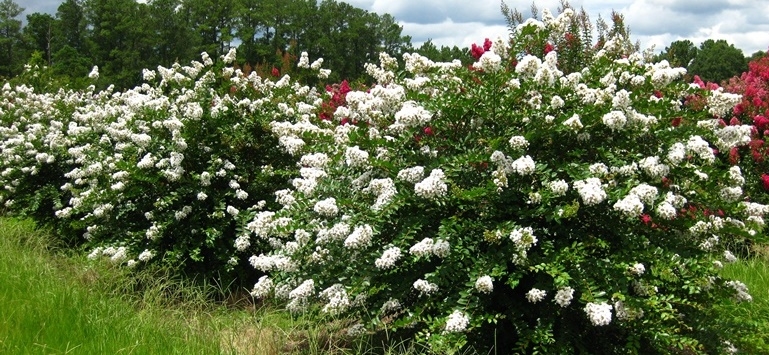 Planting and Garden Care
When it comes to planting, crapemyrtle is very tolerant and forgiving with three exceptions. Firstly, crapemyrtle needs sun to flower freely, so plant it in a site receiving at least six hours of direct sunlight each day. Secondly, crapemyrtle will not grow in wet soils. Finally, never plant crapemyrtle too deep — if you do so, it will punish you by not flowering for years and years. Planting too deep literally smothers the roots, requiring the crapemyrtle to regenerate a new root system in the soil above.
Crapemyrtle is very drought tolerant and almost seems to thrive on neglect. On the other hand, regular watering and fertilizer will help crapemyrtle grow faster and bigger.
More Beauty on the Way!
Breeders are continuing to improve and introduce new crapemyrtles. Many new varieties were released in the last couple years. In particular, watch for new types with purple-burgundy leaf color all summer long! Time will tell which new ones grow best in our area. Stay tuned as the world of crapemyrtle continues to evolve and improve!
*Gary Knox is Professor of Environmental Horticulture with the University of Florida. He is stationed at the North Florida Research and Education Center in Quincy, where he evaluates more than 100 cultivars of crapemyrtle.
0