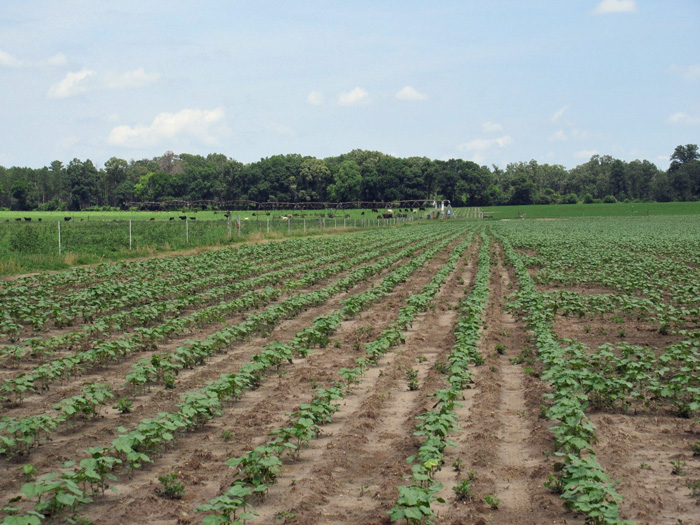 Dan Dourte, Ron Bartel, Sheeja George, David Wright, Jim Marois, UF/IFAS NFREC
Cotton and peanuts are grown on nearly 2 million irrigated acres in the Southeastern U.S. The consumptive water use for irrigation has significantly impacted groundwater resources, spring flows and stream flows in many parts of this region, particularly during severe droughts. In the sod-based rotation system, where bahia grass is grown for two years prior to peanuts and cotton in a 4 year rotation, we have shown the potential to reduce irrigation demand by up to 100 percent, without reducing yield through enhanced plant root growth and improved soil properties. Crop yields of non-irrigated crops within the sod-based rotation were compared to irrigated crops in a conventional rotation to evaluate the impacts of the sod-based rotation on water savings. A soil water assessment model developed with the Southeast Climate Consortium was used to simulate irrigation water demands under a range of soil conditions to quantify water savings potential of the sod-based rotation system. When compared to a conventional rotation using irrigation, the sod-based rotation was simulated to have median irrigation demand reductions between 4 and 8 inches per year, using historical weather data from 1980-2013.
The periods of high irrigation demand, during the growing season May through October, come at the same time as reduced stream flows and availability of water resources in the Southeastern U.S., further increasing the significance of reduced irrigation afforded by the sod-based rotation system. The reduced operational costs of irrigation could be computed directly based upon the amount of water that would not be applied or pumped. In the situation where well water is used, these costs will vary depending on the depth to the pumping water level in the supply well, the operating pressure of the irrigation system, and whether it is electric or diesel. Operational cost savings would generally be based on the unit energy costs of the fuel used to operate pumps, labor, and maintenance of the irrigation system. The range of savings could be between $30 to $160 per acre per year, depending on soil type, severity of drought, and other on-farm production factors.
These findings are still being developed, but the proven long term productivity of the sod-based rotation, combined with the reduced need for irrigation makes the system more valuable to the farmer, and the farm community, as water becomes more scarce. The ability of a sod-based rotation to increase soil organic matter and produce large root systems result in a more productive farm with reduced inputs. If irrigation is available, water may only be required for specific management practices such as after planting or prior to digging peanuts. Irrigation water can be used to manage the crop rather than grow the crop. If irrigation is not available, the sod-based rotation system provides a more viable alternative for profitable farming.
For more information on this subject read:
0