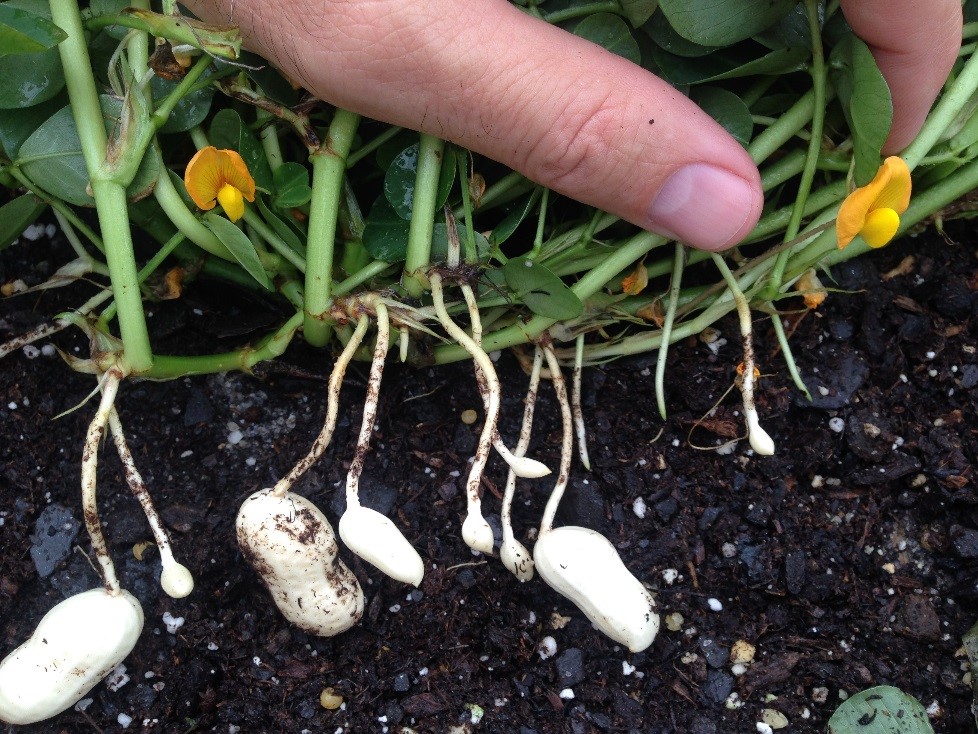 Barry Tillman, UF/IFAS Peanut Breeder
You may think it is too soon to start thinking about peanut maturity. After all, thanks to a cool, wet spring, most farms have only recently finished planting! However, maturity determination is one of the least precise, and most challenging skills required for successful peanut farming. Understanding the key factors that influence peanut maturity can help make more informed decisions at harvest time.
The primary reason that peanut maturity is difficult to ascertain has to do with the biology of the peanut plant. The peanut plant has an 'indeterminate' flowering habit, meaning that it continues flowering over its entire vegetative life cycle of over 100 days. At any point in time, a single plant can have mature pods, new flowers and everything in between (Figure 1). Contrast that with corn, which has a 'determinate' flowering habit. Corn silks and tassels in a matter of 10 days or less. Thus, the kernels of corn on a single ear are nearly identical in age whereas the pods on a single peanut plant vary widely in age. That makes determining maturity in peanut difficult.
In addition to the biological issue of indeterminacy, weather (primarily rainfall) can drastically alter peanut maturity. Under irrigation, the peanut plant has the opportunity for continuous growth and development, but if rainfall is the only source of water and there are long periods between rainfall events, the peanut plant could stop flowering, only to resume when rainfall comes. Breaks in rainfall cause even more variation in pod maturity.
The fact the peanuts are underground is an additional factor that limits our ability to easily determine maturity. Even when we dig them up, maturity is not obvious because the exocarp (outer layer) of the pods is the same color regardless of maturity of the pod. So we have to remove the exocarp to reveal the mesocarp which darkens as the pod matures (Figure 2). The exocarp of peanut pods can be easily removed by scraping with a pocket knife, or using a pressure washer as described in this publication: A Simple, Quick, Inexpensive Peanut Blaster (http://santarosa.ifas.ufl.edu/documents/ag_podblaster.pdf).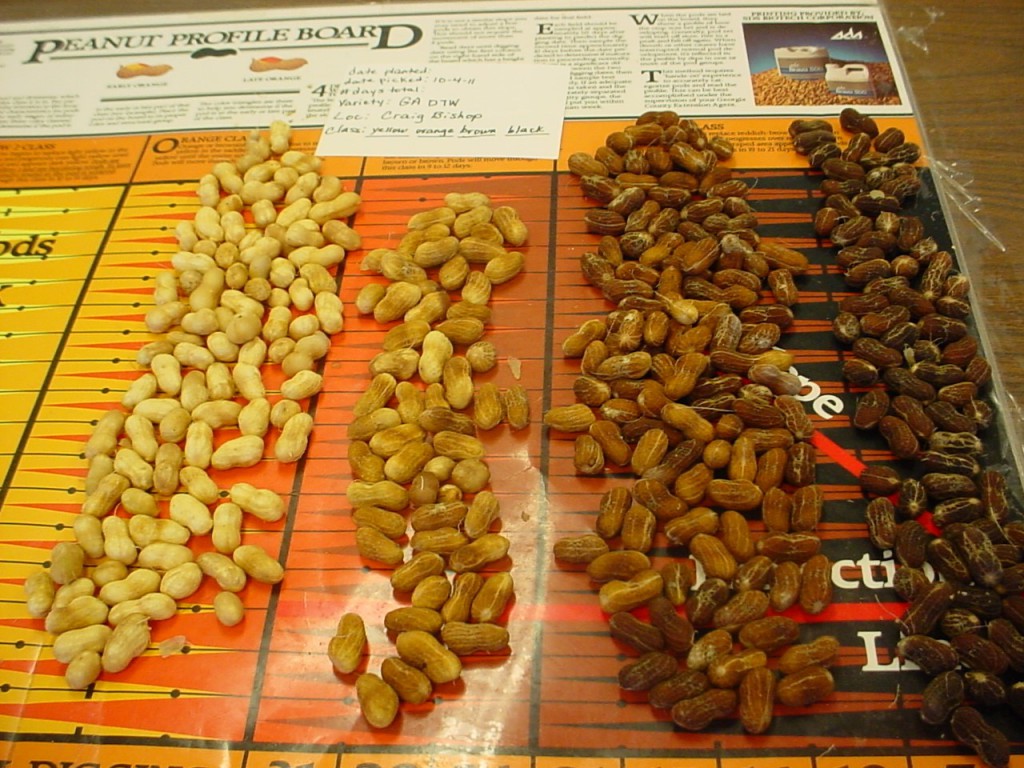 Another, relatively new tool to aid in peanut maturity prediction is Adjusted Growing Degree Days (aGDD) available by using an online tool called Peanut Field Agronomic Resource Manager, otherwise known as PeanutFARM (http://agronomy.ifas.ufl.edu/peanutfarm/). This tool tracks rainfall, irrigation and temperatures to predict when the crop will reach optimum maturity. It is a handy tool for irrigation scheduling as well. Using this tool from planting through to harvest will help to keep track of crop progress, and aid in planning for harvest as the aGDD accumulate. Using all the tools at your disposal to determine optimum peanut maturity will help in making the best digging decision, when the time comes!
For more information on this topic you might also want to read:
0