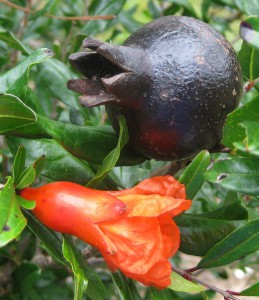 Purple Sunset is a new ornamental cultivar of pomegranate, Punica granatum. Purple Sunset pomegranate is distinguished from fruiting pomegranate by a bushy, compact habit and numerous flowers followed by small, ornamental, purple-black fruit.
Native to southeastern Europe and Asia, pomegranate has long been grown for its edible fruits. Horticulturists recently recognized its ornamental qualities and began selecting pomegranate for form, flowering, and ornamental fruits. 'PIIPG-1' is a cultivar selected from open-pollinated seeds of Punica granatum 'Nana'. Trademarked as Purple Sunset, this cultivar has a bushy, compact growth habit. Although promoted as a dwarf form that grows only 3–4 feet, plants in north Florida (USDA Cold Hardiness Zone 8b) have grown significantly larger, approaching 6 feet in height 3 years after planting. Purple Sunset pomegranate may be used in the landscape as a specimen plant or hedge.
Leaves of new growth are red-tinged, becoming glossy green throughout summer, and turning yellow to yellow-green in late fall before dropping in early winter. Large two-inch orange flowers occur on new growth throughout summer and fall. The orange flowers develop into inedible, shiny, purple-black fruit up to three inches in diameter. Orange flowers and purple fruits often occur on the plant at the same time, producing a colorful display. Fruits persist into winter, adding interest to the leafless shrub, before eventually falling. Wildlife may eat the tough, seedy fruits, but this has not been documented.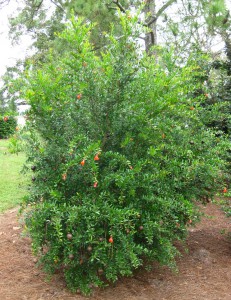 Culture of Purple Sunset pomegranate is similar to fruiting pomegranate. This plant is hardy in USDA Cold Hardiness Zones 7–10. It grows best in full sun to part shade on deep, loamy soils but is adapted to all but alkaline soils. Pomegranate is somewhat drought tolerant once established. Hedged plants should be pruned in late winter before new spring growth. Leaf spot and fruit blotch, diseases of fruiting pomegranate, may also affect Purple Sunset, but these problems have not been noted in the landscape.
For more information:
0