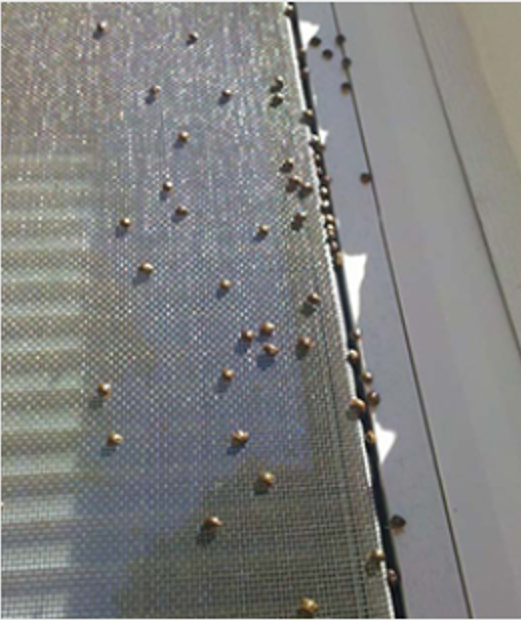 The kudzu bug has emerged from its overwintering locations with a vengeance! If you saw recently a large number of small greenish and flattened insects on your exterior walls, your vehicles or most any other light colored object, you saw kudzu bugs. This insect with the scientific name of Megacopta cribraria arrived in the U.S. a few years ago and is steadily colonizing the southern states.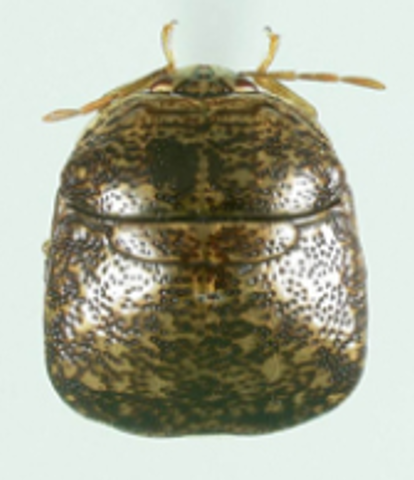 This pest mostly feeds on legumes but it has been found in high numbers recently on about any plant that has leaves, including citrus. It is best known for the pungent odor it emits when disturbed and the large numbers that are seen on the sides of buildings in the fall trying to find a place to overwinter. Normally they overwinter at the base of trees and in the detritus such as leaves and other debris on the ground at the edge of fields where they were feeding on crops or weeds prior to the onset of colder weather. Those same overwintering bugs then emerge in spring and again respond in high numbers to light colored buildings in the afternoon sun as the days warm up.
The radically-changing weather recorded in north Florida so far in 2014 of dramatic cold followed by warm days and nights have "confused' the bugs such that they have not dispersed away from their overwintering sites in typical fashion. Thus, the repeated buildup of bugs on buildings as the weather temperature oscillates from cold to warm and back again. Fortunately, the fall overwintering flights by the kudzu bug only last a few days, but unlike some other insects such the multicolored Asian ladybeetle, Harmonia axyridis, the kudzu bug does not appear to enter dwellings and then crawl through the walls to emerge in the interior rooms.
One might wish to apply an insecticide to control the kudzu bugs but that is both difficult to time properly as well as mostly ineffective on dwellings. That is especially the case give the unusual as well as unpredictable swarming that the bugs are doing this year because of the weather. Therefore, the best course of action is to ignore the bugs on dwellings and if and when they do appear in high numbers on green plants that are of value suppress them there. Synthetic pyrethroids are available from certain retail stores that are effective and legal to use without a pesticide license. Always follow the use label on the pesticide container – "The label is the law".
For more information on Kudzu bugs and their management, go to: http://www.kudzubug.org/
0