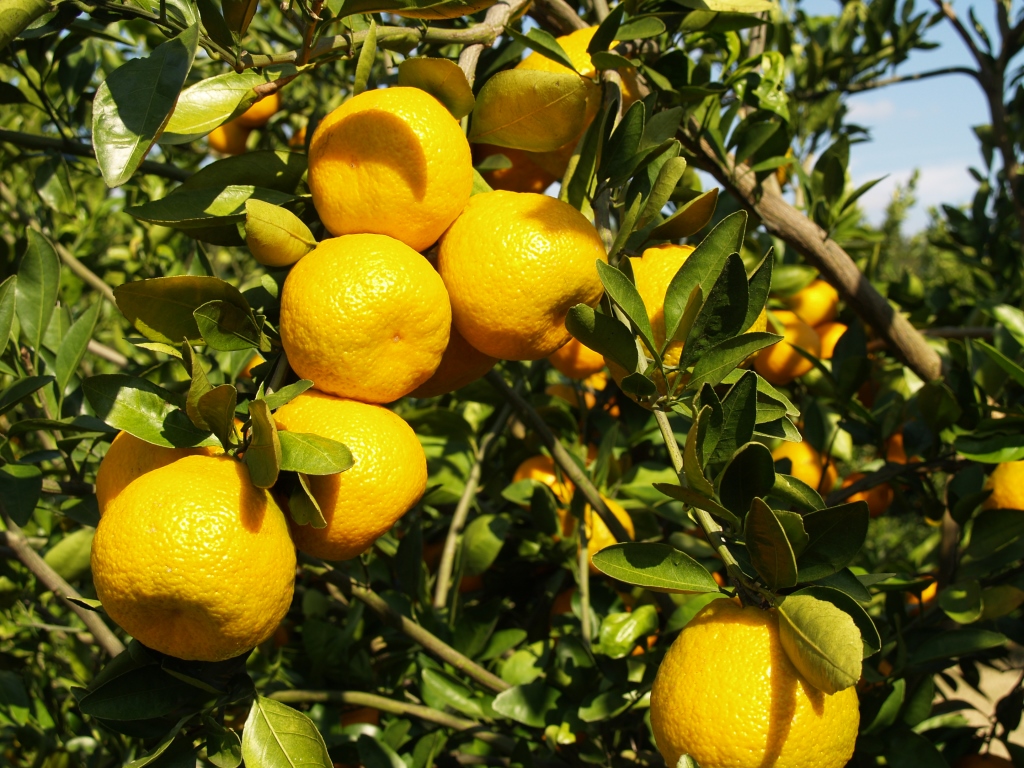 Researchers at the UF/IFAS North Florida Research and Education Center near Quincy are evaluating the longevity and production of a number of citrus varieties for use in Northwest Florida. A planting of new and old cultivars was established during the spring 2011. The following cultivars are being evaluated for horticultural characteristics and cold-hardiness: Owari Satsuma, Brown Select Satsuma, Xie Shan Satsuma, Minneola Honeybelle, Sugar Belle, Tango and US Early Pride. All cultivars are budded on Swingle rootstocks. Plant spacing is 15 and 20 feet within and between rows, respectively. None of the cultivars have experienced any significant cold damage over the winters.
Cold damage for all citrus can be minimized by exposure to preconditioning cold temperatures before a severe freeze. Site selection is the most important element of freeze protection. If possible choose a location that is protected on the northwest side by a house or woods. Artificial wind breaks are also an option. Freeze protection methods such as micro-sprinkler irrigation, tree wraps and mounding soil around the tree trunks (in a cone shape) can be used to minimize freeze damage.
Citrus Cultivars being evaluated at NFREC Quincy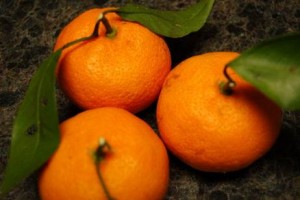 Satsumas (Citrus unshiu Marc.) are adapted to subtropical regions of the world and are generally acknowledged to be the most cold tolerant commercially-grown citrus. They produce small- to medium-sized fruit and are usually seedless. They are easily peeled, they have deep orange flesh and are sweet when ripe. Mature Satsuma trees at the NFREC-Quincy have withstood temperatures down to 12-14 F without any significant damage. Another advantage of satsumas is that fruit ripening is during October and November before the occurrence of minimum winter temperatures. Owari is probably the most common Satsuma cultivar. It ripens about 1 November in north Florida. The tree is fairly slow growing, but this is also dependent on the rootstock. Tree shape tends to be drooping. Brown Select ripens about 15 October and it has produced very high yields in our trial. It is not quite as drooping as Owari. Xie Shan is an early ripening Satsuma cultivar (October ripening date). More information on Xie Shan will be available in the future.
Navel orange (Citrus sinensis) is characterized by the growth of a second fruit at the fruit apex. Navel orange is an old fruit with a history dating back to 200 years. Tree growth is upright. They are large in size (3 ½ + inches) with good flavor. Cold-preconditioned Navel trees have survived 14 F with no significant cold injury at the NFREC-Quincy.
Minneola Honeybelle Tangelo is a Duncan grapefruit x Dancy tangerine hybrid that was released in 1931. Fruit are large (3 ½ inches in diameter), usually bell shaped with a distinct protruding neck on the stem-end. The flesh and the skin are orange red in color and ripen in mid- to late-December. Minneola is not strongly self-fruitful, and the yields are improved with a nearby pollinizer cultivar. When Minneola is planted as a solid block the fruit are seedless, while in mixed plantings fruit often have 7 to 15 seeds. Cold-preconditioned Minneola trees have been hardy at the NFREC-Quincy down to 14 F.
Sugar Belle is a mandarin hybrid (Clementine tangerine x Minneola Honeybelle) recently released by the University of Florida. It has the characteristic bell shape of Minneola, but ripens in early November. Fruit size is medium (2 ½ inches in diameter). The flavor of Sugar Belle is rich and sweet (14 Brix) with a good sugar/acid balance. Cold hardiness is being evaluated.
Tango is a seedless mandarin developed by the University of California. It is similar to Murcott in all characteristics except that it is seedless. Fruit size is medium (2 ½ inches), and fruit are high in sugar (12 to 14 Brix). Tree growth is very upright. A disadvantage of Tango is a ripening date of mid-January to March so the fruit may be exposed to minimum winter temperatures. Cold tolerance is being evaluated at the NFREC-Quincy.
US Early Pride is a seedless mandarin hybrid that was recently released by The United States Department of Agriculture, derived from the seeded Fallglo varieity. The parentage of Fallglo includes mandarin, grapefruit and Temple orange. Fruit size is 2 ¾ to 3 inches in diameter. Fruit average between 11 and 12 Brix. There is an average of less than two seeds per fruit. Ripening can begin in October, which is the earliest of any mandarin hybrid. Cold tolerance is being evaluated at the NFREC-Quincy.
0