Mental health in youth is becoming a more common topic for families and professionals. How society, peers, professionals, and even parents handle the conversation with youth will heavily impact successful intervention and recovery.
This blog is NOT intended to diagnose, treat, or supersede professional help, however it can serve as a helpful starting point for parents, professionals, and peers to have critical conversations with youth. There are several free or low cost, full trainings available for everyone to take for the full instruction of these methodologies. To find one visit HERE.
What is Youth Mental Health First Aid
"Mental health is a state of well-being in which an individual realizes their own capabilities, can cope with normal stressors, work productively, and contribute to their community. Youth Mental Health First Aid (YMHFA) is the help offered to a young person experiencing a mental health challenge, disorder, or crisis." YMHFA is a research-backed program created originally in Australia but is now delivered world-wide helping thousands of youth!
Signs of a potential crisis or mental health challenge could include things like panic attacks, aggressive behavior, post traumatic events, substance misuse, and/or changes in typical behavior/attitudes/interests. An immediate crisis is any form of medical emergency, non-suicidal self harm, suicidal thoughts or speaking, a severe psychosis state, and/or substance abuse. Medical emergencies should be resolved before mental health emergencies. This is not an exhaustive list with signs and symptoms being unique to each individual, age, and cultural norms. Regardless, the more vigilant we are in spotting early signs the more successful we are at helping young people.
Think about scenarios where you might encounter a youth experiencing a challenge or crisis. This could be your friends, family members, or even fellow 4-H members. Would you know what to say if they came to you expressing thoughts of self harm or perpetuating anxiety/sadness? Would you know how to start the conversation if you suspect a young person may be using drugs or alcohol? For most of us these scenarios are possible but often uncomfortable. 1 in 5 youth will experience a mental health disorder in their lifetime however only 7.4% will receive any form of screening/visits each year, with stigma still being a barrier to receiving help.
What is ALGEE?
ALGEE is a non-linear process to deliver mental health first aid. Not every step is needed for every scenario and these steps can be done out of order if more appropriate. Just like with physical first aid, the goal is to keep the youth safe until you can connect them with appropriate professional help.
A-Assess for risk of suicide or harm
First determine if this is a potential or immediate crisis. Your personal level of training or skill may dictate how to move about the remaining steps.
This is ongoing for every youth. The better we understand each individual the more sensitive we will be to when they change. Distinguish what may be normal for their age and what are larger warning signs.

If you suspect immediate crisis such as risk of suicide, ask the youth directly "Do you intend or have thoughts of killing yourself". Yes this is difficult question, but being direct is key. However, be calm and use non-accusatory language. If the answer is "yes" contact professionals immediately. You can use crisis hotlines or texting (listed below) together or let the youth independently reach out. Additionally you can call 911 for medical and emergent support.
L- Listen non-judgmentally
This is the hardest, but one of the most important steps of helping young people. Often we try to impose our own experiences or judgments when dealing with others. What may seem like unimportant or easy situations to overcome could be deeply troubling for some. Keep an open and empathetic conversation. Use a positive and calm tone. Never accuse or assume.
Some phrases you can use include:

"I am concerned about you", "How long have you been feeling like this?", "You haven't been yourself lately, are you ok?", "It is hard for me to understand exactly what you are going through, but I can see that it is distressing you."
Don't say things like:

"Pull yourself together", "I understand and know exactly what you're going through. That happened to me at your age.", "You'll get over it.", "You've got schoolwork to get done. It is time to get on with it."
G- Give reassurance and information
Don't make promises you cannot keep or belittle someone's emotions. We aren't always the ones most suited to solving the young person's problems so try to avoid advice unless asked. Instead connect them to professionals.
Giving reassurance and information is not the same as giving advice.
E- Encourage appropriate professional help
Think about the trained professionals your community has access to. What counselors or community support groups can you have contacts for on hand. If you are unsure you can always contact these crisis lines.

Crisis Text Line: Text "MHFA" to 741714 to speak with a compassionate, trained crisis counselor who can help you and the youth
National Suicide Prevention Lifeline 24 hours a day: 1-800-273-TALK (8255), 1-888-628-9454 (Spanish), 1-800-799-4889 (TTY)
E- Encourage self-help and other support strategies
Self-help is when a young person uses their own efforts resources to achieve well-being. There is a wide range of healthy self-help like hobbies, connecting with nature, relaxation training, socializing with positive peers or groups, and proper nutrition and sleep. This step is helpful and healthy for everyone! What strategies could you do as friends, family, or a club to help young people (and yourself)?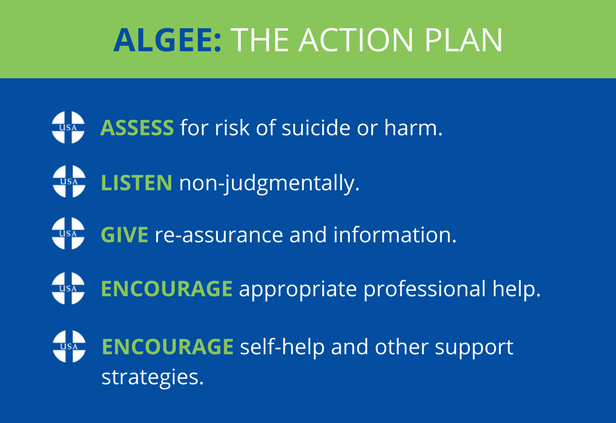 Things to remember
Delivering YMHFA is not treating, diagnosing, or overriding professional help.

The primary role of a YMHFA during a crisis is to keep the youth safe for now until professional help arrives.
Being observant for changes in the youth around you is on-going and a critical element.
Although you may have had similar experiences, we never understand 100% of how someone is processing situations or emotions.
Are you prepared to truly listen non-judgmentally? This is the hardest component. This includes your verbal and non-verbal cues.
Understand that culture is a major factor for youth. Be respectful and mindful that your beliefs/traditions may not match the youth's.
Are you the best person to help this youth? Should you reach out to someone more equipped? Do you have the time? Is the situation unsafe for you? Know who the professionals are that you should connect youth with for the full help.
Youth may downplay or stay reserved in talking with you for many reasons including not wanting to let you down or worry you. You cannot force this conversation. Be supportive, empathetic, and available.
Depending on your relationship with the youth, giving advice is not always the correct action.
Dealing with a mental health challenge or crisis is not without hope. How we react and help these youth will determine the likely outcome of their recovery.
Check in with yourself too! To properly care for others we must also take care of ourselves. After having these conversations we may also feel distraught. It's OK to seek help and use self-care for ourselves as part of this process.
Moving Forward
I encourage all parents, volunteers, and professionals to take the full YMHFA course. Having more fully-trained first aiders will make significant and positive impacts on the youth in our community. The course provides an incredible amount of training and key details to most effectively render YMHFA not listed here.
Please continually observe the youth in your lives for signs of crisis or challenges and connect them to appropriate professional help. We never fully understand what a young person is going through and sometimes the best thing we can do is simply show we care regardless if it is a crisis or just a bad day. You can be the difference!
1