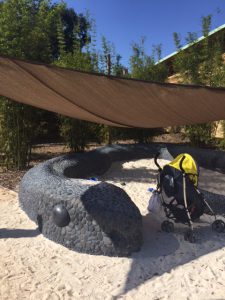 I recently had the pleasure of visiting Bok Tower Gardens in Lake Wales, Florida and experienced one of their newest additions, a children's garden. As much a playground as a place for growing plants, it was full of whimsical energy and invitations to explore. The entire area encouraged children to reach beyond their comfort zones and engage with nature, including an outdoor art space, a climbing area made of lean-to logs, and a covered sand "box" shaped like a snake.
In recent years, sociologists, educators, and health experts have bemoaned the loss of free outdoor play in the lives of children. Multiple factors, including the rise in electronic entertainment, more organized, practice-heavy youth sports, fears of crime/abduction or just lack of safe access to ride bikes or walk, have contributed to a drop in the frequency and length of time that kids spend outdoors playing on their own. Many readers can probably relate to my childhood. We would take off on bikes in the mornings during summer and not come back until we got hungry. We didn't have cell phones or GPS, and we knew all of our neighbors so we had a place to go if we had a rare emergency. The results of fewer child-led outdoor explorations include increases in childhood obesity, fear of the outdoors, difficulty with balance, agility, and managing excess energy.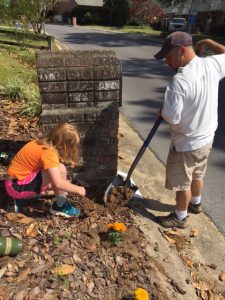 One way to encourage kids to get outside and explore is to plant something in your yard, school, or nearby park that can serve double-duty as a window to explore. Landscaping with young people in mind should include a variety of plants with interesting heights and textures, fruit-bearing shrubs or trees to engage the sense of taste, and lots of color. Logs to sit and climb on are perfect for developing balance and learning to take calculated risks. In addition, it is important to engage kids in the design and planting of the garden or landscape–if they have a hand in developing the area, they'll be more invested in its success. In fact, research has consistently shown that children who help care for school gardens are more willing to try the food they've helped to grow. Beyond expanding a healthy palate, participation in school gardens can increase "soft" skills, such as the ability to work effectively in a team, better communication, and an increased appreciation for nature. Many kids also do better in science and gain a deeper understanding of proper nutrition after working with gardens.
If you are not a gardener or landscaper but interested in taking children outdoors where they can learn and become more comfortable, the US Forest Service has taken the research related to "nature-deficit disorder" so seriously that multiple "Children's Forests" have been developed. While there are still very few in the southeastern US, there are dozens around the country. The stated goals for a Children's Forest are: 1) Connect kids, families, and adults to healthy outdoor activities across all landscapes. 2) Create new education and career opportunities. 3) Foster an understanding of how our changing environment affects the world and how people can work together to embrace these changes. 4) Provide professional development opportunities for educators, with emphasis on conservation and the natural world. Local state and national parks often provide excellent programs for families as well, such as the National Park System's Junior Ranger Program.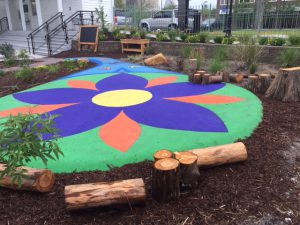 A program in Gainesville called "Kids in the Woods" has recognized the lack of youth engagement in the outdoors and created field trips and curriculum for students designed to help make sure they are comfortable in the great outdoors. No matter how you engage the youth in your life with nature, it is important that they get outside, get dirty, and go beyond their comfort zone. Their health, academic success, and even motor skills needed for sports and daily life will reap the benefits!
0