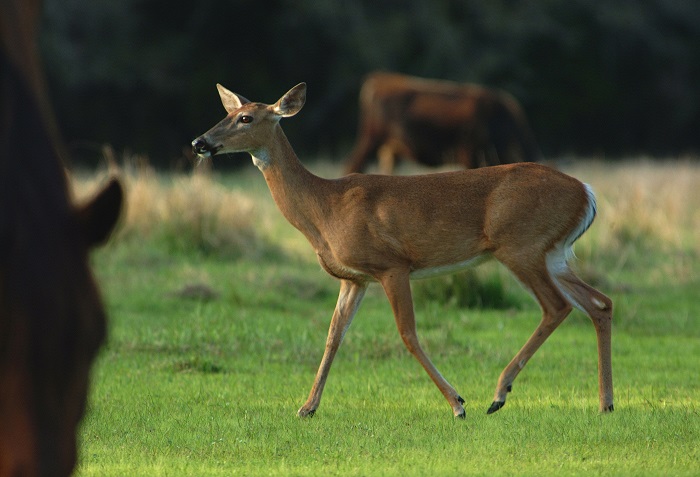 As a County Agent, I receive a wide variety of calls from clients relating to wildlife. The majority of these calls are quite positive; clients need help improving wildlife habitat or simply need a creature identified to satisfy their curiosity. However, from time to time, situations develop where wildlife behavior becomes a nuisance to a client. The following are some key concepts that can be applied to stop ongoing nuisance wildlife and/or lessen the likelihood of future nuisance wildlife causing issues around your home. For clarity, nuisance wildlife are specific animals (not an entire species) that are causing a specific problem.
Animals frequent various areas because those areas provide resources necessary to meet the animals' needs. Animals have three basic needs: 1) Food 2) Water 3) Cover. If an animal(s) is frequenting your property and causing some kind of damage, as to become a nuisance, it is incredibly likely that the animal's presence and nuisance behavior are related to the animal seeking food, water, or cover. With this concept in mind, there is a four-step process that can be utilized to alleviate the issue.
Step 1: Identify the species of animal responsible for the nuisance behavior. Accurate identification of the species causing the problem is key to developing a successful plan of action for stopping the issue. Do not make assumptions or guesses, use available resources to make a definitive identification. Animals can generally be identified by looking at the type of damage caused (i.e. soil disturbance, tree bark damage, vegetation clipping, garden damage, etc.), signs left by the animal (scat, tracks, etc.), and the time of day/night the damage occurs. Careful observation of these factors should lead to an accurate identification of the nuisance animal.
Step 2: Determine why the animal is frequenting your property. After you have identified the problem animal and familiarized yourself with its normal behaviors you should be able to deduce what the animal finds appealing about your property. In some cases, the damage caused by the animals plainly shows why they are there, other times it might not be as obvious. Remember, they are likely there in search of food, water, or cover.
Step 3: Implement steps to address the situation. After you have determined "what & why" you can formulate an appropriate plan for addressing the issue. Generally, the plan will include steps in one or more of the following categories:
1) Habitat modification – This is generally the most practical approach to dealing with nuisance wildlife. In its simplest form, habitat modification is simply removing or altering whatever environmental factor is attracting the nuisance wildlife. The most common example of habitat modification is the removal of wildlife food sources (i.e. pet food, bird feeders, easily accessible garbage and/or compost).
2) Deterrents – Any measure that restricts access to the resource desired by the nuisance wildlife. These measures can include, physical barriers (fencing, etc.), hazing or scare tactics (eyespot balloons, holographic foil, motion-sensitive sprinklers, noise-makers, dogs), and chemical repellents. Deterrents are generally more expensive than habitat modification and their effectiveness tends to decrease over time.
3) Trapping or killing the nuisance animal – These are only to be considered as last resorts. Even when trapping or killing is the only option, they generally only provide a temporary solution to the problem if the environmental factor drawing the animals is not also addressed. Additionally, many state and federal regulations that dictate when trapping or killing wildlife is permissible.
Step 4: Evaluate your level of success and make necessary adjustments. Observe any changes in wildlife behavior and modify your approach as necessary. Begin with habitat modification; if that is not effective make sure the correct modification(s) was made. If no additional modification can be made look at deterrents. Only if all habitat modification and deterrent options have proven ineffective would you move on to trapping or killing. As you move through this process you may wish to seek professional assistance. Contact your county's UF/IFAS Extension Office for general advice or FWC for a list of professional nuisance wildlife trappers.
This article was adapted from Overview of How to Stop Damage Caused by Nuisance Wildlife in Your Yard by Holly K. Ober and Arlo Kane. There are links throughout the article to a series of publications by the same authors that explore the various topics in detail.
0