The Importance of Club Involvement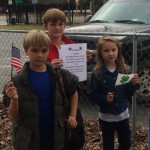 With summer approaching, you might be asking, "What am I going to do with my children while they are out of school?" One solution is to get them involved in a club. 4-H is the youth organization of the Land Grant University System, of which the UF/ IFAS Extension Service is a part. 4-H and other clubs offer many benefits to youth who participate.
For many children, they need to get out and do something. Research has pointed out many negative effects of spending too many hours in front of a television or on the computer. It is much healthier to be actively involved in activities, especially with other people.
I have said many times that idle time was detrimental to my children. Out of school time can be dangerous, as many children are exposed to drugs, alcohol, crime, and the list goes on. Clubs are a constructive way to spend their time.
Clubs offer a wonderful opportunity for children to meet new people and make new friends. Oftentimes, 4-H clubs are centered on a specific project or topic. Therefore, friendships or acquaintances are built around a common interest.
Life skill development is one of the greatest advantages of belonging to a 4-H club. Self-confidence grows as a result of obtained life skills. You can see from the chart below the four life skill areas and how the club leaders address the life skills through club involvement:
4-H Life Skill Area
Targeted Life Skill(s)
Suggested Activity
Head (thinking)
Critical thinking, problem solving
Use team-based activities with positive interdependence such as creating a group presentation on livestock disease
Head (managing)
Goal setting, planning/organization, wise use of resources, keeping records, resiliency
Assign individual roles such as leader, recorder, or materials manager to meet group goals
Heart (relating)
Communications, cooperative, social skills, conflict resolution, accepting differences
Provide youth with a means to assess group work skills and reflect on student performance independent from the other learning objectives
Heart (caring)
Empathy, sharing, nurturing relationships
Create long-term groups youth work within to share materials such as textbooks or tools
Hands (giving and working)
Contribution to group, teamwork
Successes and failures are shared by all members equally. Individual members can be randomly selected for assessment that will reflect on the knowledge/skills of the entire group.
Note: 4-H life skill areas and targeted life skills are from Norman and Jordan (2006), available at http://edis.ifas.ufl.edu/4h242.
Many clubs have a great emphasis on teamwork. Members are encouraged to work toward a common goal. This can be done in a variety of ways including community service, group projects, or during camp, just to name a few. Youth develop independence as they gain these skills to carry throughout life.
Last, but not least, leadership and responsibility can be obtained with club involvement. Youth are allowed to make their own decisions, elect officers, and learn to lead, follow, and carry out their responsibilities.
What better way to learn these skills during their childhood in a safe environment than through club involvement in 4-H or other youth organizations? If your child is not involved in a club, use the summer to see what is offered in your community that will meet your family's needs.
If you are interested in learning more about 4-H, go to florida4h.org.