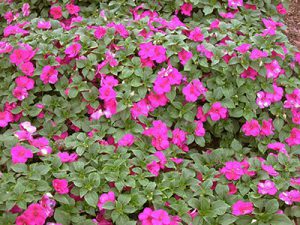 Impatiens are a very popular annual, bedding plant that provide a nice burst of color in the landscape. The traditional Impatiens (Impatiens walleriana), or touch-me-not, is the one that most gardeners know as needing part shade, but there are also the New Guinea Impatiens (Impatiens hawkeri) that are able to tolerate more sun. In addition to being able to withstand more sunlight, the New Guinea Impatiens also have larger flowers and leaves. Another highlight of the New Guinea impatiens is their increased resistance to downy mildew, a major concern for growers of touch-me-nots, especially in south Florida.
While native to the Old World, Impatiens are not known to invade Florida natural areas but may reproduce by seed. Touch-me-nots are known to spread easily be seed. An interesting fact about Impatiens is their bursting seed pods that can send seeds several feet from the parent plant. This characteristic is what led to the scientific name Impatiens – for impatient – and one of the common names – touch-me-not.
May is a good time to plant Impatiens in north Florida. They prefer slightly acidic soil and should be planted at a 12-18 inch spacing. Impatiens work well as a border planting or in mass plantings. While New Guinea Impatiens tolerate more sun, they still would prefer some afternoon shade. Those growing in full sun will need extra care to ensure they remain well watered. An all-purpose plant food can be applied at monthly intervals for best performance.
Some common varieties of touch-me-nots include 'Accent', 'Blitz', 'Carousel', 'Dazzler', 'Impact', 'Impulse', and 'Super Elfins'. Common New Guinea Impatiens varieties include 'Celebration Candy Pink', 'Celebration Light Lavender', 'Nebulus', 'Equinox', 'Sunglow', and 'Tango'. The newer 'Sunpatiens' variety is quite popular and comes in different forms – compact, spreading, and vigorous.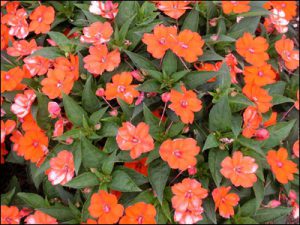 If you have any questions regarding Impatiens, please contact your local UF/IFAS Extension Office or visit our EDIS website at www.edis.ifas.ufl.edu.
0