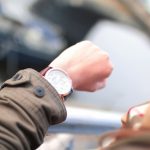 Ever feel like you're moving through your work day at the speed of light with barely enough time to eat, much less eat healthy? The combination of stress, poor eating habits, and lack of exercise can lead to becoming overweight and the development of chronic health conditions such as type-2 diabetes, high blood pressure, and cardiovascular disease. Numerous studies have shown that stress can lead to poor nutritional choices including:
Choosing a sugary and/or caffeinated drink over water
Grabbing convenience foods more often, which usually are not healthy choices
Forgetting meals and making poor choices later in the day, ultimately eating more calories, sugar, fat, and sodium
The fact is we are all busy. But, if we don't take the time to care for ourselves, we may be headed down a dangerous path of self-destruction. It only takes a small amount of time to take the right steps toward better health.
Here are some tips to get you started:
Simplify! Instead of being overly concerned with counting calories or measuring portion sizes, think of your diet in terms of color, variety, and freshness.
Start slow and make changes to your eating habits over time.
Every change you make to improve your diet matters!
Think of water and exercise as food groups in your diet.
Moderation is key. Try not to think of certain foods as "off limits," but, rather, think smaller portions.
It's not just what you eat, it's how you eat. Mindful eating – listen to your body and take time to enjoy your food and mealtimes.
Fill up on fruits and vegetables.
Choose whole grains.
Focus on healthy fats and limit saturated fats and fried foods.
Try different types of lean protein.
Limit sugar and salt.
Plan Ahead

Take the time to make a grocery list before going to the grocery store
Plan and pack nutritious snacks for work
Prepare meals for the week ahead of time
Consider your options when eating out
Portion out meals and snacks ahead of time
Have water available all day

Incorporate Exercise into Your Daily Routine

Choose the stairs over the elevator
Walk during breaks
Turn housework into exercise
Walk the dog
Park further away when you drive to the store
Play outside with your kids
Remember, nothing is more important than your health and the health of your family. Set a good example for those you love by taking care of yourself. They will be thankful you made plans to be around for many years to come!
For more information about this topic or other nutrition and wellness-related topics, contact Amy Mullins, MS, RDN at amymullins@ufl.edu.
0