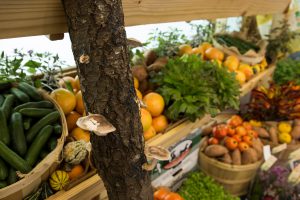 As much as I wanted to write about Sneak Some Zucchini Onto Your Neighbors' Porch Day, celebrated on August 8, it was difficult because zucchini, a summer squash, takes a two-month hiatus during July and August, the warmest Florida summer months. Nevertheless, there is quite a variety of produce growing locally (within 100 miles) of this Capital City and it is amazing! While the Florida state produce calendar boasts eight "Fresh From Florida" seasonal products, local growers produce almost double that amount. Nearby, arugula, sweet corn, eggplant, garlic, okra, southern peas, peppers of all kinds, winter squash, cantaloupe, figs, Muscadine grapes, pears, and watermelon are generally available here, now. As popular as shopping and eating locally are becoming, it is important to know what grows in this area and when it is ready, as nothing beats fresh produce.
Perhaps you are interested in saving some of the August harvest. Nearly all vegetables can be frozen, provided a few simple procedures are followed. Freezing does not sterilize foods like pressure canning does. However, freezing does delay the growth of microorganisms and slows down chemical changes that affect vegetable quality; there also will be textural changes during freezing.
Blanching – scalding vegetables in boiling water for a short period of time – is an easy process to inactivate the enzymes in the vegetable skin and to destroy microorganisms on the vegetable surface. Plus, blanching reduces the vegetable in size a bit so it does not take up as much room in the freezer. Blanching time is crucial and varies with vegetable and size.
Cooling is critical, too. Vegetables should be cooled quickly and thoroughly to stop the cooking process. To cool, plunge the vegetables immediately into a large quantity of cold water or ice water for about the same amount of time as blanching. Drain vegetables thoroughly after cooling; promptly and properly package, label, and place in the freezer. Freezing is an easy and convenient food preservation method that allows you to enjoy food in the future.
If you are looking for something that tastes good and is good for you, try a vegetable medley with all the vegetables you can freeze. A medley mixes fresh, frozen, or a combination of both vegetables for a dish that takes a short time to prepare, can be eaten hot or cold, frozen for future use, or even added to a stock for a flavorful vegetable soup.
If you are one of the lucky ones gifted with an abundance of produce from the farm, garden, or friends, all of the vegetable ingredients in the recipe below can be frozen as single ingredients or in pre-measured amounts to help you quickly whip up a batch of summer fare.
Summer squash, like zucchini and crookneck squash, might be taking a break during these dog days of summer, but soon they will be fruitful again, proliferating by the bushel basket.
By using the aforementioned techniques, try saving some of what is in season today to add to what will be growing shortly!
VEGETABLE MEDLEY

Ingredients
1/4 cup olive oil (or less)
1 cup onion (diced – does not need blanching)
2 garlic cloves (smashed, minced – do not need blanching)
2 cups bell pepper (red, green or yellow, diced – does not need blanching)
2 cups zucchini (1/2 inch slices; blanch 3 minutes)
2 cups Crookneck (1/2 inch slices; blanch 3 minutes)
3 cups lima beans (blanch for 2 to 4 minutes)
3 cups corn kernels (fresh: blanch whole ear for 4 minutes before removing from the cob)
2 tablespoons favorite herb (parsley, basil, rosemary…even mint, coarsely chopped)
Directions
In a skillet over medium-high heat, add oil.
Add onion; cook until translucent (2 minutes). Add garlic, bell peppers, zucchini, squash, lima beans, and corn.
Season as desired; cook, stirring, until vegetables are tender (10 minutes). Stir in seasoning and serve warm or cold or even freeze to use at a later date.
For more information about proper freezing techniques, see University of Nebraska-Lincoln, http://food.unl.edu/freezing.
0