What's in Season Now?
What's in season now?  Although summer doesn't officially start for a few more weeks farmers have been busy producing seasonal, summer fruits and vegetables.  The seasonal vegetable guide for North Florida Produce has an abundance!  Not only are basil and beans plentiful, so are blackberries, blueberries and mulberries, corn, cucumbers, eggplant, garlic, melons, okra, peas (southern) peppers, summer squash, and tomatoes.  (in the southern part of Florida avocado, guava, lychee, mango, papaya, and passion fruit are showing up)
Fruits and vegetables are loaded with great vitamins and minerals! And eating at least 3-5 servings a day of fruits and vegetables is truly considered the key to good health.  Folks who eat a wide variety of colors – both fruits and vegetables, as part of an overall healthy diet, are likely to have a reduced risk of some chronic diseases.  Both fruits and vegetables provide nutrients vital for health and maintenance of your body.
Eating fruits and vegetables is easy to do!
Have you ever tried using the United States Department of Agriculture What's Cooking? USDA Mixing Bowl recipe finder? Using this website, I simply checked the box that I'd like to focus on, eating more fruit and vegetables then added the ingredient zucchini to the recipe search box. http://whatscooking.fns.usda.gov/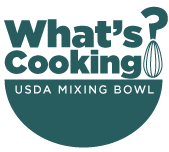 Sixty recipes popped up! I choose the one for Squash Squares.
Squash Squares: Ingredients
4 eggs (beaten lightly)
1/4 cup oil
3 cups thinly sliced squash (use zucchini or yellow squash)
1/4 cup chopped onion
1 cup biscuit mix
1 teaspoon dried parsley (or 2 T chopped fresh parsley)
1/3 cup grated cheddar cheese
1 cup grated carrots
Directions
Mix all ingredients thoroughly and pour into a greased 9×13″ baking dish.
2. Bake 25 minutes, or until bubbly and brown, in a 350°F oven.
3. Serve in squares while warm.
Notes
To freeze – Cool, and cut into squares. Freeze squares on a cookie sheet. When they are frozen, put into freezer bags. When ready to use, take out of the freezer bag, place in microwaveable covered container. Reheat in microwave at medium setting.
Try 8 egg whites in place of whole egg for less cholesterol and fat.
Add other thinly chopped fresh veggies into the mix – green or red sweet peppers, spinach, broccoli.
I've tried this recipe using both yellow squash and zucchini with equally tasty results.  I especially appreciated the suggestions on the recipe to personalize by adding your own twist.  Like it spicy?  Add a jalapeno!  Want to add some pizzazz?  Add some diced red pepper for color.  Want to eat it later?  Just freeze and eat or reheat and eat! Don't have zucchini on hand?  Substitute other thinly chopped fresh veggies.  I have even substituted the biscuit mix with a corn bread mix for yet another spin.
Fruits and vegetables are nutritious and delicious.  Try adding some Florida fresh, seasonal fruits and vegetables to your meals!