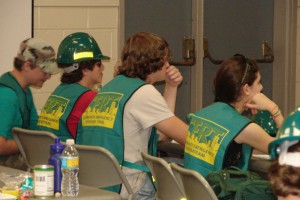 It's mid-summertime. Tourists are flocking to beaches like seagulls to bread. Summer camps and in full swing and so are daily afternoon thunderstorms. In Florida, torrential rain, lightening, and thunderstorms are so common place they often aren't treated with due respect. However, one group of 4-H teens and adult volunteers in Leon County have been working with disaster preparedness for six years and understands just how quickly Mother Nature can turn from beautiful to dangerous.
The Teen Community Emergency Response Team (CERT) is a unique organization that teaches participants leadership, readiness and response skills. Teens recognize hazards, man-made or natural, in order to prevent a possible disaster. Teens participating in the program are trained to safely respond to an emergency and assist victims without endangering themselves. Examples of what youth learn are:
extinguishing small fires
conducting light search and rescue
setting up medical treatment areas
assisting emergency responders
Members of the Leon County 4-H Teen CERT Club have been actively involved in natural disaster preparedness for four years. While not all members are official teen CERT members, all youth are active in learning about disasters and how to be the most prepared. Members are actively engaged in their community – passing out literature on disaster preparedness. In addition, members of 4-H Teen CERT participate in an annual first responder training exercise held at the Tallahassee Regional Airport. Our youth pose as victims of a disaster and are given the opportunity to interact with working first responders. This opportunity allows youth to interact with professionals in the field as well as understand the details that go in planning and preparing for emergency situations.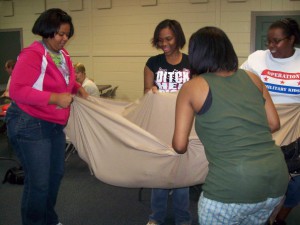 Teen CERT has been a wonderful addition to the Leon County 4-H program. Adults and youth who participate are more aware of situations that could potentially pose harm to members and bystanders. Youth are always quick to help adults remember the first aid kit and are always willing to lend and extra hand. In addition to training youth who are ready and able to respond, CERT has trained leaders who give back to their club and organization!
For more information about Teen CERT, please visit: https://www.fema.gov/community-emergency-response-teams/teen-community-emergency-response-team.
UF IFAS Disaster and Recovery information (includes a homeowner handbook and hurricane preparedness for homeowners and ag producers)
Want to help youth in your community learn how to respond to emergencies or about careers related to community safety? If you would like to start a 4-H Teen CERT club, or serve as a speaker or project leader for 4-H disaster preparedness programs, please contact your local UF IFAS Extension Office or visit http://florida4h.org/volunteers.
0