I think it's safe to say fall is officially here. Shouts can be heard from local football stadiums, occasionally a crisp fall breeze will send us looking for a light jacket, and coffee shops are pushing all things pumpkin. Now that we can officially appreciate the cooler fall weather, it may be time to stretch our legs and marvel at the spectacular show of color our landscapes are putting on. Here are a few plants that are showing off this time of year.
Firebush (Hamelia patens) – This charming Florida native will delight everyone with beautiful orange-red flowers throughout most of the year. Hummingbirds and butterflies enjoy the nectar in the flowers. Firebush can reach a height and width of 8 to 12 feet. It is a fast growing plant that will grow well in part to full sun environments.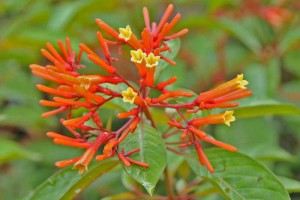 Salvia (Salvia spp.) – Salvias are great plants for bringing butterflies and hummingbirds to your garden and as a bonus, they have no serious pests. With hundreds of annual and perennial species coming in an array of colors and sizes, you can easily find one or more to complement your landscape. Salvias perform best in full sun environments and are considered drought tolerant.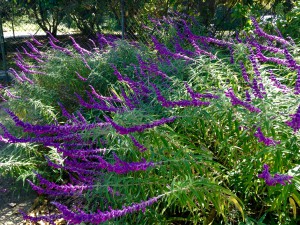 Turk's Cap (Malvaviscus arboreus) – Turk's cap can add a cheerful pop of color at a time when little else is blooming. This old-fashioned Florida-Friendly shrub like perennial is related to the hibiscus. It's known for its bright red flowers that always seem ready to open, but never do. Turk's cap starts blooming in summer and keeps going until through winter, unless hit by a hard frost. It can grow in full sun and reach up to ten feet tall and ten feet wide, so give it room to grow. This easy-care native perennial requires little maintenance once it's established.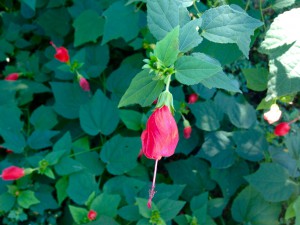 Coleus (Solenostemon scutellarioides) – When imagining fall color we often don't consider coleus. However, the vibrant foliage can add interest to any landscape throughout the fall. Coleus is prized for its colorful foliage, which comes in shades of green, yellow, pink, red, and maroon. Coleus varieties can range from one to several feet in height. They can be used in hanging baskets, containers on patios, or in landscape beds. Coleus prefers partial shade and you can pinch the growing stems of young plants frequently to encourage dense foliage. Keep an eye out for mealybugs on coleus and use insecticidal soap if problems develop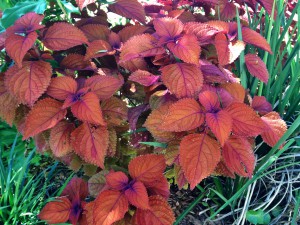 Fore more information contact your local extension agent. Also you can visit us at gardeningsolutions.ifas.ufl.edu or edis.ifas.ufl.edu.
0