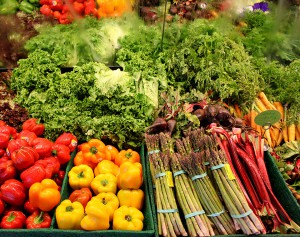 Have you paid attention to any of the recent food recalls? In February 2014, both the U.S. Food and Drug Administration (FDA) and the U. S. Department of Agriculture (USDA) issued consumer food recalls and alerts for a variety of food safety reasons. Product recalls warned consumers about undeclared allergens, false or misleading labeling, pathogenic contamination, and unsanitary processing conditions, to name only a few of the reasons.
A safe food supply is important to everyone! Both the USDA and the FDA have responsibility for protecting different segments of the food supply however; there are other food safety agencies involved. Consumers play an important part in keeping food safe. In addition, to handling food safely, consumers need to be aware of food recalls. Watch for food recall notices in the news, at your local grocery store, and online at www.recalls.gov. If identifying marks on the food product you have purchased match the detailed information in the recall notices, then you can do the following:
Return the product to the place of purchase for a refund. OR Dispose of the product following the instructions provided in the recall notice to assure it will not be consumed by anyone.
Do not eat the product.
Dispose of the product carefully.
Do not give the product to others (do not give to food bank, your pet, for example).
Do not puncture or otherwise open cans.
Wash hands with warm water and soap for at least 20 seconds after handling the product.
The Bottom Line is… if you sense there's a problem with any food product, don't consume it. "When in doubt, throw it out!"
Share this educational information with family, friends, and neighbors. Stay informed, stay safe; check for product recalls.
View the following UF/IFAS Extension publications for more information about food regulation"
http://edis.ifas.ufl.edu/pdffiles/FS/FS12100.pdf
http://edis.ifas.ufl.edu/pdffiles/FS/FS11800.pdf
0