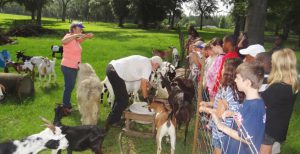 Fred and Bobbie Golden relocated to Jefferson County from Lakeland, Florida in 2000 to establish Golden Acres Ranch LLC. The sixty-three-acre ranch is home to one of the largest mayhaw ponds in the region, grass fed goat & sheep, free-range chickens, guineas, pet boarding, and a country store.
Bobbie and Fred have genuine love for Jefferson County 4-Hers. Can you tell the difference between a sheep and a goat? Jefferson County 4-H campers can! For the past six years, 5-8 year old youth visited their ranch during 4-H day camps for some hands-on learning about agriculture. The campers have opportunities to feed, pet and learn important facts about Tennessee Fainting Goats, sheep, Pyrenees and Maremma, chicken, guineas and other animals reared on the farm.
Abagail Loveless, day camp participant said, "the reasons I like to visit Golden Acers Ranch, you get to feed, pet, learn things about the farm animals and swing on the tire/rope. "London Skipworth indicated that she was afraid of chickens, but with help and support from teen counselors and 4-H Staff, she was able to overcome her fears. London now plans to participate in the 4-H Chick Chain Project this year.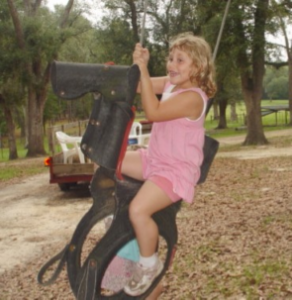 Bobbie Golden, said "I like inviting the campers to the ranch because I like teaching them interesting facts about our farm animals, but most importantly bringing the youth back in touch with agriculture."
Bobbie is a member of the Jefferson County Extension Ag Advisory and Vice President of the Overall Extension Advisory Committee. Bobbie also chaired the Extension Office open house committee. Bobbie and Fred support Jefferson County Extension in every capacity.
Annually, Jefferson County Extension participates in the Millstone Farm Tour and the Mayhaw Festival; both held events at Golden Acers Ranch. Each Extension program area provides interactive displays and hands activities for the youth and adults. For more information about Golden Acres Ranch, please go to https://goldenacresranchflorida.com/.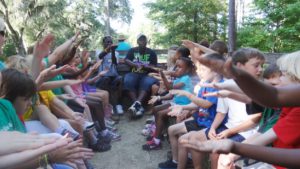 0