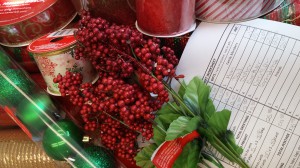 It won't be long before you start to smell "holiday scents" and hear "holiday music" almost everywhere you go. These holiday smells and sounds are a marketing tactic. According to research conducted by Spangenberg, Gorhmann, and Sprott, when Christmas music is played in conjunction with an ambient Christmas scent being released, consumers have more favorable reactions to retailers, merchandise, and the overall shopping environment. Despite this retailing trick, consumers can avoid overspending by doing three things: make a budget, make a list, and stick to your plan.
Make a budget
Ideally, budgeting is something that is done in advance and practiced year round. If you already have a budget in place, simply begin to plan how you will spend the money you have set aside for this holiday by category. If you do not have a budget, make a decision about how much money you are willing to spend this holiday season and stick to it. Some categories you may want to include in your holiday budget: Christmas cards, postage/shipping, gift wrapping expenses, decorating, travel expenses, and items for special meals/potlucks. For a printable holiday budget template, click here or visit the University of Maryland Extension website at http://goo.gl/5957ic.
Make a list
Once you have an idea of how much money you have for each budget category, get specific. Under each category, list individuals/groups to whom you want to give cards or gifts, decorative items you wish to purchase, places you will travel to, and food items you may want to prepare that are outside of your normal grocery list. Once you have identified the specifics based on your budget, decide on the total amount you can spend on each item.
Stick to your plan
Stick to your list and do not buy things you cannot afford. The idea seems simple enough, but, ultimately, this is where some will fall short. In 2013, a study conducted by Harris Interactive found that 57% of U.S. adults with children said they would be willing to take on debt in order to make their children happy for the holidays. When you buy gifts on credit or receive refund anticipation loans, title loans, or cash advances, you are taking on debt and may be buying items you cannot afford. Items purchased on credit that cannot be paid off before interest accrues end up costing more.
Tricks are for Halloween. This holiday season, don't get fooled into unplanned purchases by the ambient smells and sounds retailers use to entice consumers. Shop smart by making a budget, making a list, and sticking to your plan.
References:
Spangenberg, Grohmann and Sprott. (2004). It's beginning to smell (and sound) a lot like Christmas the interactive effects of ambient scent and music in a retail setting. Journal of Business Research 58:2005 (1583-1589).
University of Maryland Extension (2013). Stop Seasonal Stress with a Holiday Spending Budget. Retrieved 31 October 2014 from http://goo.gl/5957ic
Lexington Law. (2014). With the Holiday Season Nearing, Lexington Law Examines How Important Presents Are and How Much People Spend on Them. Retrieved 31 October 2014 from http://goo.gl/i3KDXm
0