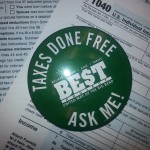 Tax season starts officially on January 31, 2014. Now is time to start gathering documents and deciding on a tax preparer. For low to moderate income individuals and families, the VITA (Voluntary Income Tax Assistance) program maybe an option. Generally, VITA offers free tax help to people making less than $52,000.
When taxpayers use VITA everyone wins! The Federal government saves money due to increases in electronic filings and reduced filing errors. Local economies benefit when taxpayers receive their entire refund to spend in the communities where they live and work. Thanks to the help of Internal Revenue Service (IRS) trained and certified volunteers, qualified taxpayers save money on tax return preparation fees by receiving free high quality tax preparation service with access to e-file and direct deposit.
Volunteers will prepare:
Form 982, Cancelation of Debt***
Form 1040EZ, 1040A, 1040
Schedules A,B,D***,C-EZ,EIC,R, SE
Schedule E, Supplemental Income and Loss***
Schedule C, Profit or Loss from a Business***
Form 1040-V Balance Due Returns
Form 1040 –ES Estimated Tax Payments
Form 2016, Employee Business Expenses***
Form 2441 Child and Dependent Care Credit
Form 3903 Moving Expenses
Form 5329 Additional Taxes on Qualified Plans and Other Tax-Favored Accounts (part 1)
Form 5405, First Time Homebuyers
Form 8863 Education Credits
Form 8880 Credit for Qualified Retirement Savings Contributions
Additional Child Tax Credit
Form 8888 Allocation of Refund
Form 88889 Health Savings Accounts***
Form 8949 Sales and Other Dispositions of Capital Assets
Form 1040-X Amended Returns***
***These services are limited and depending on the scope of the request may require the assistance of a paid preparer.
For assistance finding a VITA site near you contact your local UF/IFAS Extension Office http://solutionsforyourlife.ufl.edu/map/
or United Way (dial 211 or visit www.211.org).
0