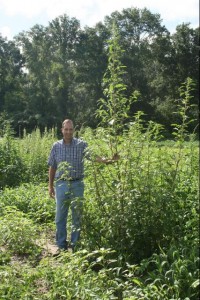 Deer feeders are common in North Florida, and "deer corn" is sold in multiple markets. Cross-roads convenience stores sell it in plain brown bags and big box stores in town sell it in camouflage bags with three color pictures of giant bucks on the front. With the high price of corn in 2012, many hunters saved a few dollars buying "combine run" corn from local farmers or corn screenings from grain elevators. The corn's no different, however, either product can contain weed seed, especially Palmer amaranth. These weeds can mean big trouble for farmers and hunters.
Palmer amaranth is a species of pig weed, but it's not your granddaddy's "careless weed". It's taller than either red root pigweed or spiny pigweed, and is becoming resistant to several herbicides, most notably glyphosate ("Roundup"). Amaranth seed are small and plentiful (1 to 1.5 millimeters in diameter) and easily can fit in the nooks and crannies of grain harvesting and handling equipment.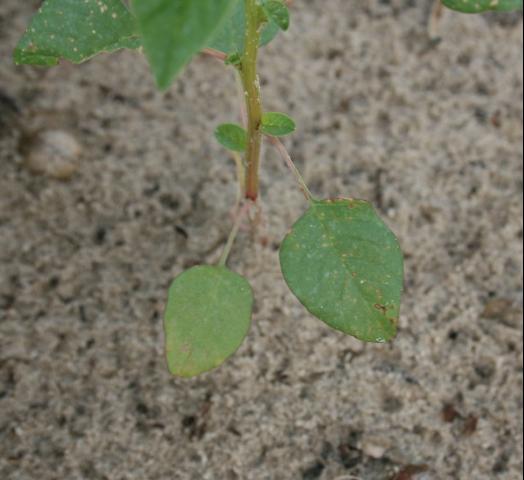 Once Palmer amaranth seed make it into a deer feeder, there's a huge opportunity for seedlings to take root in places under the radar of typical scouting and control measures. If these seedlings are herbicide resistant, you've done far more harm to the landowner than any savings on corn cost can offset. Conservative estimates indicate herbicide costs have at least doubled due to herbicide resistant weeds. Do your local farmer a real favor; scout and control weeds coming from your deer feeder.
Further information on identifying and controlling Palmer amaranth is available from your county Extension agent or at http://edis.ifas.ufl.edu/ag346
Feeding corn to deer and turkey is permitted by the Florida Fish and Wildlife Conservation Commission as long as the following restrictions are met. "Resident game and wild hogs may be hunted in proximity of year-round game-feeding stations on private lands, provided the feeding station has been maintained with feed for at least six months prior to taking resident game," and "Wild turkey may not be taken if the hunter is less than 100 yards from a game feeding station when feed is present." See General Information regarding Feeding Game at http://myfwc.com/hunting/regulations/general-information
0