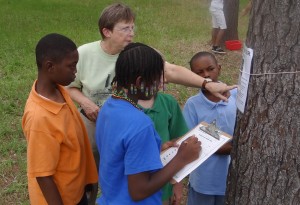 As members of a youth serving organization it is important that adults are aware of their responsibility for child safety. Our hope is that all children will live in a safe environment, but we know that children are exposed to neglect and abuse. We have a responsibility to educate ourselves and the children with whom we work about the risks to the welfare of a child. It is mandated by law as a volunteer with the Florida Cooperative Extension Service that you must report suspected child abuse cases to your Florida Department of Children and Families.
The 2012 Florida Statutes 39.201 Mandatory reports of child abuse, abandonment, or neglect;(1)(a) Any person who knows, or has reasonable cause to suspect, that a child is abused, abandoned, or neglected by a parent, legal custodian, caregiver, or other person responsible for the child's welfare, as defined in this chapter, or that a child is in need of supervision and care and has no parent, legal custodian, or responsible adult relative immediately known and available to provide supervision and care shall report such knowledge or suspicion to the department in the manner prescribed in subsection.
As a volunteer with Extension you can work with your 4-H agent(s) to ensure the safety of children in your local 4-H program. As you interact with youth, you may become aware of situations in which you would like to take some action to protect the welfare of a child. Although we do not investigate, DCF investigators rely on people who have direct contact with youth to report their suspicions of abuse or neglect. Below I have included some useful information.
What Do I Do If…?
I Suspect Abuse?
· Make a report by phone or by person to the Florida Department of Children and Families. This may be done locally or by calling the hot line at 1-800-962-2873.
·

After filing the report, notify either the 4-H Agent or the County Extension Director.

·

Be prepared to have available this information: name, address and age of child; name and address of parent or caretaker; name of person you suspect; reason for suspecting; your relationship to the child.

·

Do not contact the suspected abuser!
What Do I Do If…?
A child tells me about being abused.
·

Listen to what is being told to you. Do not "lead" or interrogate the child. Let the child share what he/she is willing to tell.

·

Reassure the child he/she has done the right thing by telling you. Acknowledge the difficulty of the decision and make it clear it is not the child's fault.

·

Keep your own feelings under control. Be calm and non-judgmental. Do not express emotions.

·

Use the child's own vocabulary.

·

Do not promise not to tell. Tell the truth. There may be actions taken over which you have no control.

·

Be supportive. Provide help and guidance. Let the child know that confiding in you was the only way to possibly end the abuse.

·

Report immediately.

·

Contact the 4-H Extension Agent or County Extension Director and report what has occurred. Do not share information, discuss the situation, or contact anyone involved.
If you have further questions or how or when to report suspected child abuse, please contact your County 4-H Agent.
"Our 4-H volunteers strive to provide a positive learning experience for all youth, reassuring parents that their children are in safe and nurturing environments, but what do you do when you recognize child abuse? How do you deal with it?"
0