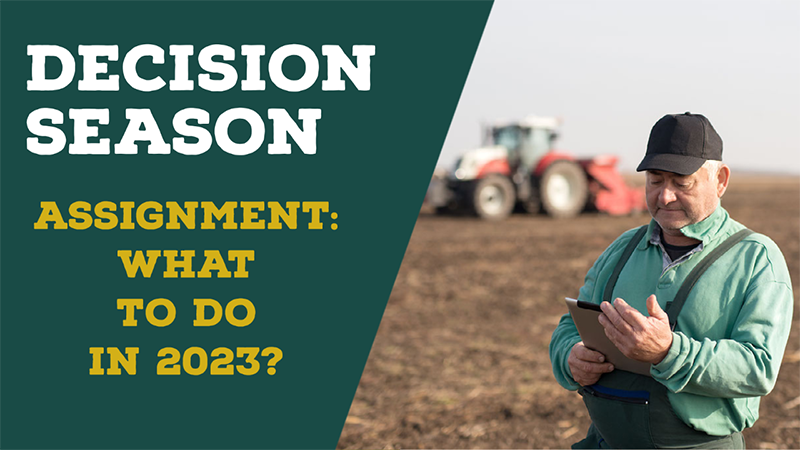 The holiday season is over, family and friends have gone back home, the holiday decorations have been put away.  College football crowned a new champion and a new farming year has begun.  Planting season is coming fast, but January is what I call, "Decision Season."  Decision Season is when farmers and ranchers become laser focused on the year ahead.  This year the decisions are even harder than in previous years, because 2022 was harder than most, so it is time to decide, "What to do in 2023?"
No matter who you talk with, 2022 was a challenging year to do business of any kind, but was especially difficult for farmers and ranchers in the Florida Panhandle.  Inflation and rising input costs greatly reduced profit margins on almost every type of farming operation, but was most challenging for commodity production, such as cotton, peanuts, corn, dairy and beef cattle.  The main issue was that market price increases did not match the level of inflation of input costs.  The real question that should be on producer's minds going into 2023 is, "What can we do different this year?"
There are several tools available that are helpful for answering what to do. Crop producers have a great tool available for the primary commodity crops grown in the Southeast:  2023 Crop Costs and Net Returns Estimate.  The following graphic shows the first page of this spreadsheet that compares crop options with conventional tillage, but there is also a comparison chart for strip tillage, as well as crop versus crop comparisons.
–
Unfortunately I have struggled to find regional budgets and decision tools for livestock producers that are up to date with 2023 price expectations.  One of the best resources that I found for livestock operational budgets is provided by Kansas State University.  Their 2023 KSU Livestock Budgets were updated at the end of 2022 to reflect expectations for this coming year.  The problem is that Kansas Production Systems and market prices are not quite the same as farms in the Southeast.
The best tool you have is your own records from last year.  As we turn the page into 2023, we can hope that input costs will begin to flatten out some, but with Russia at war and sanctions forthcoming, the economy is still volatile. Everything you buy as inputs has both energy costs and interest tied to it, and Russia is a major player in the global economy. It does appear that the Federal Reserve raising interest rates has slowed inflation.  The problem for agriculture is that while increasing interest rates may have helped calm the inflation storm, it will make operating and equipment loans, and credit card expenditures even more expensive than last year.  This year it will be critical to know your cost of production on a per unit basis.  If nothing else, use your Schedule F Tax information to help you carve out a budget for the year ahead.
Since most commodity crop and livestock producers have limited control over the price received, the focus of most often is on efficiency.  Managing costs has always been a major focus for farmers and ranchers, but has become even more critical in recent years.  You also need to look for ways to minimize waste.  One way to become more efficient is to become larger and more specialized.  Renting more acres, using bigger machinery to cover more ground with each pass, expanding facilities, etc. with the goal of spreading costs over larger units.  The problem with this philosophy is that it really does not work well in times of inflation.  Farming bigger can just mean bigger losses.   Farms have become so specialized that there is no room for modification or diversification.  When you look back in history, it was diversification that kept many farm families going for generations.  I am not suggesting that farms should go back to trying to raise a little of everything, but increasing diversification could help farms remain sustainable.
–
Diversification Options
What can you do different this year?  Are there opportunities to diversify without increasing debt at higher interest rates?  Chris Prevatt, former UF/IFAS Livestock Economist, said, "Change is Expensive!"  What resources might be shifted to some other type of operation?  These are think outside the box type questions that are not simply answered.  Utilize the resource people that you have developed relationships with for ideas.  Farms and ranches in Florida have some unique options that do require some level of new management, but might not totally interfere with your primary operations.  Don't move too fast or too big.  Start slow and ask for help to avoid major costly mistakes.
–
Outdoor Recreation
One unique resource that could be utilized is acres of privately owned land.  Hunting leases are very popular in this state.  Is there part of your farm that could be leased to a hunting club?  Most hunting leases only provide access to private land and a small area for a camp.  Yes, there are issues that arise from people driving through your property on weekends and around Thanksgiving, but you can set some guidelines with the expectations that you have for hunters.  You can even section off areas for family hunting that is separate from the hunting club access.  If you design it well, you can primarily deal with the  head of the club.  You can even limit when they have access, so it is not year round.  There can be other recreational uses of your land that are offered for fee based recreation such as camping, kayaking, atv and horse trails, or fishing.  The key is to figure out what is popular in your area and how to manage access without interfering with your primary operations.  You would definitely need to investigate liability insurance coverage for these types of activities.
–
Agritourism
Agritourism has become a very popular alternative income source for farms and ranches.  It does require someone who likes people to make it work.  There are farms that offer fall corn mazes on weekends each fall and some that offer visitor experiences throughout the year.  Some farms simply offer event venues for rental.  Wedding barns are the biggest draw, but it can be much simpler than that too.  Is there a historic barn that could be fixed up for hosting events?  Is there a house that could be rented out or periodically through Air B&B?  There are lots of things that can be done to increase income, the key is having someone that is willing to work with people.  Visit the Florida Agritourism Association website to see examples of the services and experiences that farms all across Florida are offering to add income to their farms.
–
Value Added or Direct to Consumer Sales

I have heard many farmers grumble about how little of the consumer's dollar comes back to the farm.  As you can see in the graphic below, the USDA's Economic Research Service estimates that only 16¢ of each consumer dollar spent on food goes to the farmer.  There is opportunity here.  Selling retail versus wholesale has lots of complications, but there is opportunity to add value to what you produce on the farm.  This does not have to be overly complicated, but again it involves dealing with people outside of the family or farm crew.  This can be something as simple as setting up a bin near the road for deer corn sales, or square baling some hay for sales to horse and goat owners.  Perhaps you could hold on to weaned calves al little longer to graze on annual forages to add weight prior to sale.  It could even be growing something like oats for seed sales or offering labor and equipment for custom services that is only sold to local landowners.  These are just a few options, but there are opportunities to increase revenue from the products sold from the farm. What can you do to capture some of the 84¢ that someone in the middle is gaining now from consumer spending?
–
Take Home Message
The ideas I raised are not questions you can easily answer in the next few months (unless the answer is absolutely not).  If 2022 was a very challenging year for your operation, my main goal was to get you to stop and ponder on this key question, What can we do different this year? It reminds me of yet another Chris Prevatt quote to ponder, "You can't do everything but you can do something!"  There are other options than the standard answers of commodity peanut/cotton/corn rotations or cattle production.   What resources do you have that might be used for some type of diversification?  This is not the year to start completely over and borrow big money to do something completely different, but there are options out there to add some level of diversification to your farm.  Contact your local county extension agriculture agent and ask them what other farms are doing to add income to their farms.  It may be that you just come up with an idea to capture a little more than 16¢ of the consumer dollar with what you are already doing.  Take time to go visit an agritourism farm or outdoor recreation service near you to see what they are doing.  You might be surprised how anxious urban people are to experience what you enjoy everyday on your farm.  Plus, they are willing to pay for that experience.  You definitely want to concentrate on ways to reduce costs and waste for greater efficiency, but I would encourage you to also think about ways to add income as well.  Diversification has been a good option for generations of farmers, so give some serious thought to what you might do differently in 2023.
0