Serving Special Needs Drives this Volunteer
"This group is inclusive, which gives both children with and without disabilities an opportunity to learn from each other.  Our hope is that our group will continue to grow and that through participating in our ASK group, individuals and families might gain the desire and/or confidence, to explore other 4-H groups that are geared toward specific interests."
On day four of National Volunteer Week, Jackson County 4-H Agent Angel Granger shares the story of Ann Marie Shelton, a volunteer who leads the Jackson County 4-H ASK Club – Always Support Kids.  In her own words, Ann Marie shares what inspired her to start this club and the impact it has had:
"The volunteer part is deep rooted, goes back to me as a very small child.  I enjoyed helping others, it made me feel good!  That stuck with me through the years.  There is so much going on in the world that is tough to hear.  I firmly believe that we have the power to change much of this.  Volunteering time, expertise, and a dash of passion will do much to make this world a better place.  When volunteering, you are given the opportunity to lead by example, by not waiting around for good or needed things to happen you are showing that everyone has the capacity within themselves to be a part of the change.  This may require you to step out of your comfort zone and start something new or join a group of volunteers already working on a cause of interest to you. One benefit of volunteering is you get to choose areas to volunteer that are of interest to you, whether it be something you are passionate about or something you want to learn about.
After having my four children, two of which are diagnosed on the autism spectrum and reconnecting with a friend from High School with two children on the autism spectrum, volunteering became even more important to me.  What we have found, living in our rural part of the state of Florida, is that there are few formal services or programs offered for children with exceptional needs.  I like to refer to these as diffabilities (I did not come up with this word, but it is perfect).  When our son was diagnosed with an Autism Spectrum Disorder (ASD) and was having such difficulties in certain settings outside the home, our instinct was to withdraw to the safety of our home, not pursuing social opportunities outside the home, that were new or unfamiliar.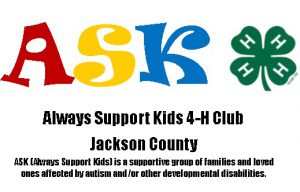 Eventually we realized that was not in anyone's best interest.  After diagnosis, we began connecting with families and organizations all over the panhandle of Florida that were on similar missions.  We also came to realize that we needed to expand on special interests and explore potential new interests, leisure opportunities, future job skills and the like.  We had been following the ASK-Madison 4-H Group on Facebook and had made connections with Leslie McLeod.  When the opportunity arose last year at Family Café, an annual disabilities related conference in Florida, to hear about their 4-H program, we jumped at the chance to find out more.  After getting to hear them talk about their program and finding out about the number of diverse opportunities 4-H offers, we decided to give it a go, in our community so we contacted our 4-H agent Angel Granger to find out how to get started. We wanted to provide a group that families could feel comfortable in participating in.  We wanted those families to know, that we understand the best way for our kids to learn about participating in group activities and activities within our community, was to experience it.  They often need a safe place to start, to let down their guards, to learn new skills and more importantly be given a multitude of opportunities to practice those new skills, in different situations, with different people, in different environments."
The group is inclusive, which gives both children with and without disabilities an opportunity to learn from each other.  Our hope is that our group will continue to grow and that through participating in our ASK group, individuals and families might gain the desire and/or confidence, to explore other 4-H groups that are geared toward specific interests."
If you are interested in starting a similar club in your county (or helping other volunteers support exceptional youth), contact your local UF IFAS County Extension Office or visit http://florida4h.org.
ASK Jackson County 4-H Facebook