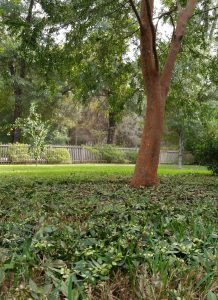 The Chinese elms in my yard are under attack. They are dropping leaves and the temperature's still in the 70s. Upon closer look, they aren't just dropping leaves but the tips of branches too. What is going on? Is there a new insect pest wreaking havoc on my trees? Did I do something wrong? No, no, and…no. The culprits are tree rats! You know, those bushy-tailed rodents that live in the trees (also known as squirrels).
Squirrels feed on a number of things in my yard including mushrooms, acorns, and now I'll have to add elm branches to the list. Chewing on branches doesn't sound appetizing to me but, as with everything, there is a reason for it. The best explanation is that the varmints can sense an accumulation of sugars in the trees and they are feeding on the cambium layer underneath the bark.
Another explanation is that there are no other preferred food sources available. However, I can debunk that theory because the squirrels have not even touched my ripe satsumas. And we all know that satsumas taste a lot better than tree branches.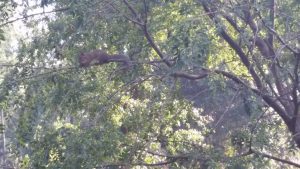 Whatever the reason, the feeding may actually do a bit of good for the trees. The squirrels mainly feed on the new tree growth. This helps to promote new branching, growth which will potentially contribute to better shading from the tree. However, there is a tried-and-true solution to the problem if the squirrels annoy you as much as they annoy me. I prefer to brine squirrel in a mixture of water, salt, and sugar before I put them on the grill but you can prepare them in any way you'd like.
0