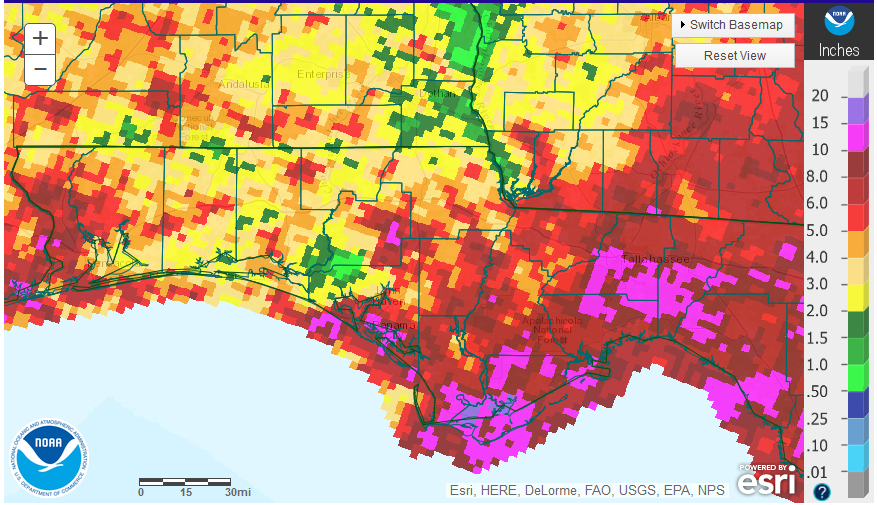 September rainfall was greatly influenced by Hurricane Hermine. The eastern Panhandle Counties had significantly more rainfall in the month of September. September totals ranged from over 10″ (pink) in portions of Franklin, Leon, and Jefferson County to a low of less than 4″ (tan, yellow, and green) for large portions of Jackson, Holmes, Walton and Okaloosa.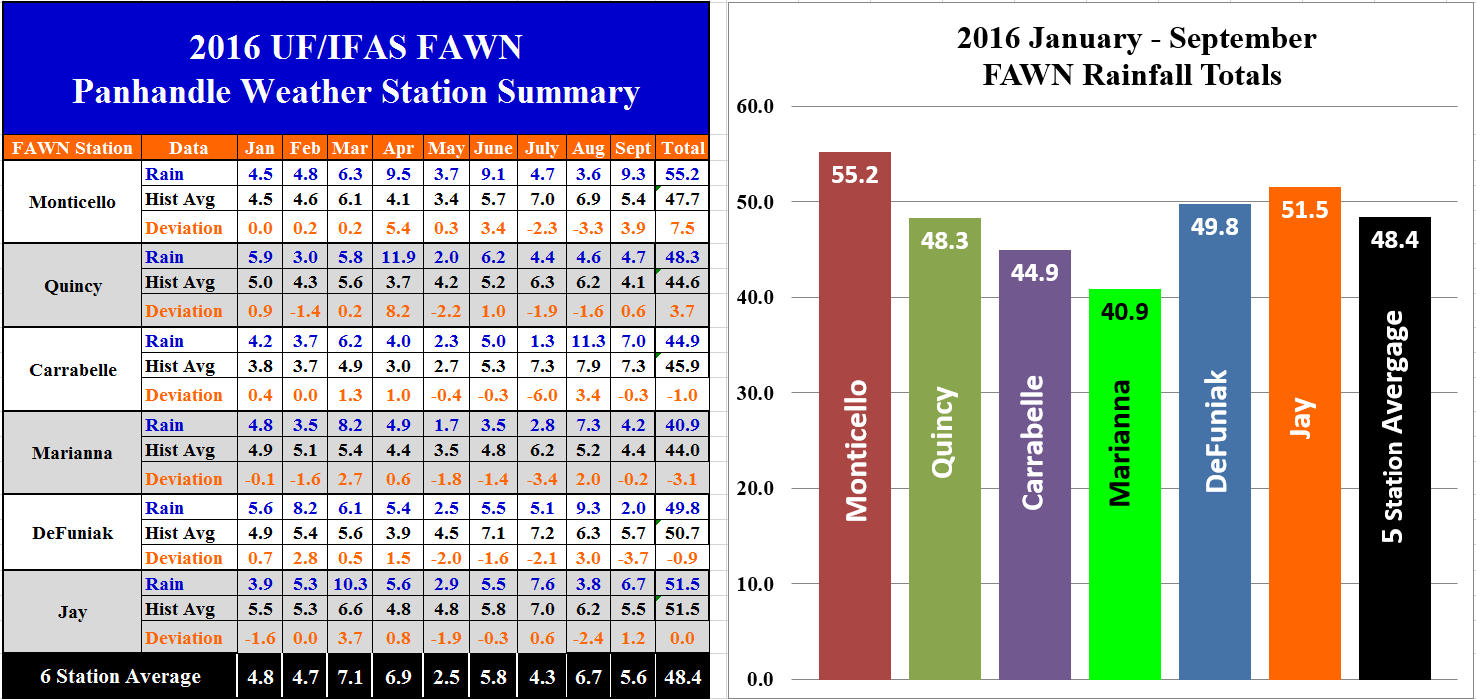 The Florida Automated Weather Network (FAWN) stations also showed the wide variation for the month of September. The highest rainfall totals came from the Monticello Station that received 9.3″, and Carrabelle with 7″ with the added rain from the Hurricane. The driest locations were DeFuniak with only 2″, and Mariana 4.2″, and Quincy with 4.7″. For the year, Monticello has taken over the lead with a total of 55.2″ through nine months, while Marianna is lagging behind with only 40.9″ for the year thus far. For the year, only the Marianna, DeFuniak, and Carrabelle stations were below historic average, while Monticello has recorded 7.5″ above historic average for this location.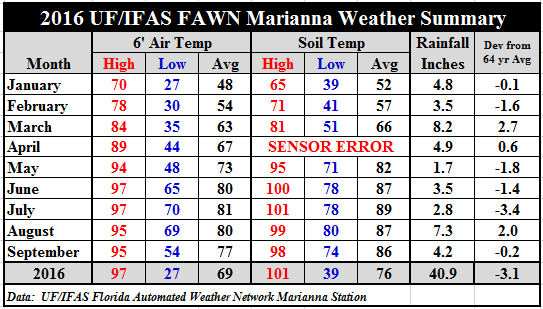 Temperatures did cool off slightly in September. The average air temperature dropped three degrees to 77° as compared to August, but the average soil temperature only dropped one degree from 87° in August to 86° in September.
La Niña Watch Canceled
Several months ago the Climate Prediction Center (CPC) was predicting a 55-60% chance of a La Niña this fall and winter. La Niña winters are typical drier and warmer than average in the Florida Panhandle. Recently the CPC has changed their forecast and are now predicting a Neutral winter. While a Nuetral ENSO phase typically has more normal temperate and precipitation in this region over the winter, these are also historically the winters with the more severe freezes.
The CPC ENSO Alert System Status: Not Active. ENSO-neutral conditions are present. Equatorial sea surface temperatures (SST) are near or below average in the east-central and eastern Pacific Ocean.

ENSO-neutral conditions are slightly favored (between 55-60%) during the upcoming Northern Hemisphere fall and winter 2016-17. Climate Predication Center
Fall Planting Forecast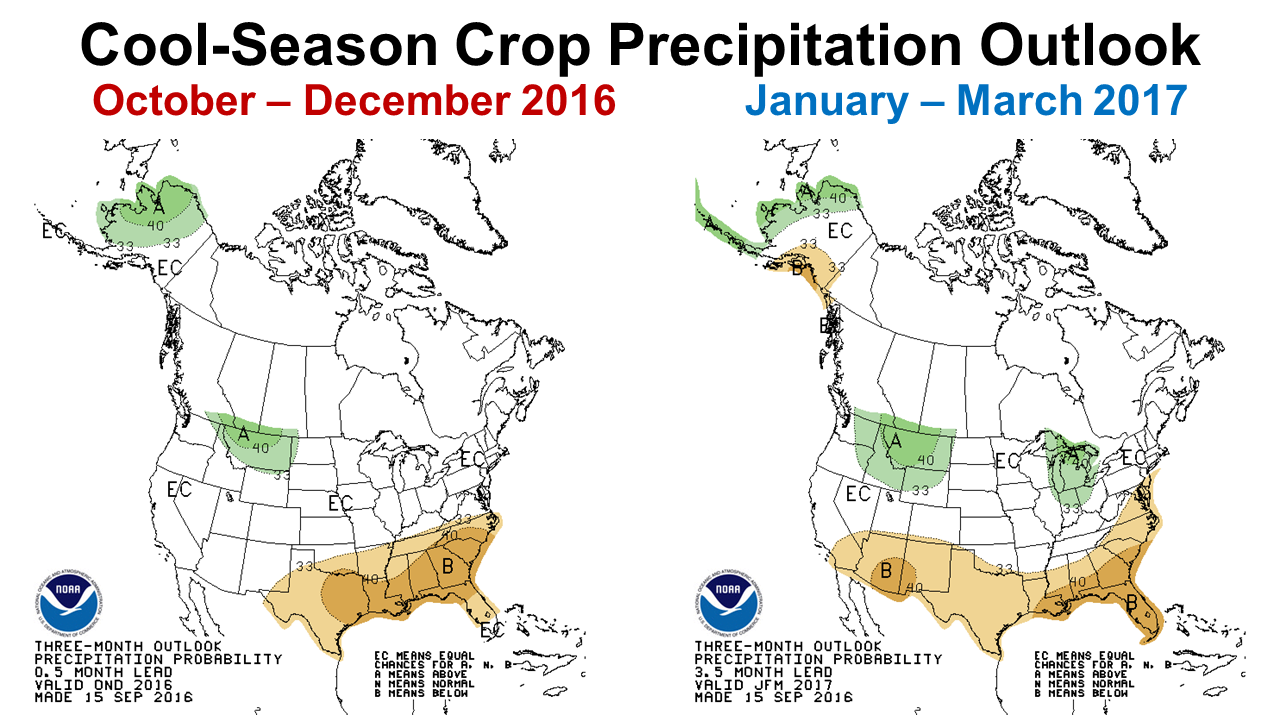 October and November are the primary months for planting winter annual pastures and small grains. The Climate Prediction Center (CPC) released their long range precipitation forecast for the fall and winter months in mid-September. Even though the La Niña watch has been canceled, they are still forecasting a drier than normal winter. Livestock producers and small grain farmers should take their current forecast under consideration when deciding which fields should be planted with cool-season forage or grain crops. This may indeed be a year when the lower, less-well drained fields are more productive. It would also be advisable to plant only when adequate moisture is present in the soil, even if that means waiting a week or longer than normal, as many areas in the Panhandle are already dry. Crops like rye that are more drought tolerant may perform better than ryegrass that is highly moisture dependent for optimal performance. For cools season pastures, blends of forages would be preferred to reduce the risk of below average moisture. These long range forecasts are updated each month. The long range forecast is always less accurate, so it is advisable to pay more attention to the shorter range forecasts. This CPC outlook site offers a variety of graphic short and longer ranged forecasts: http://www.cpc.ncep.noaa.gov/index.php
0