From time to time I am reminded of how little I know. Honestly, I am reminded on a daily basis. A few weeks ago someone asked me about the purple things hanging from the trees. Luckily, the person gave me some good southern directions on where I could find one of these things hanging around in Marianna. So I drove out to the site to get a better look. What I saw hanging in the tree was a three-sided, purple triangle about two feet tall and a foot wide. It looked to me like someone got a box kite stuck in a tree. Upon further research, it was determined this box kite like thing was a monitoring trap for the emerald ash borer (EAB).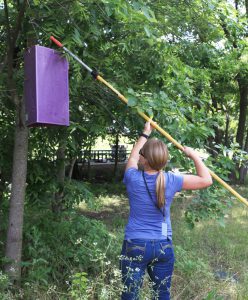 The emerald ash borer (EAB) is a destructive, exotic wood-boring beetle native to Asia. It was first discovered in North America in July 2002 and has made a home in Michigan, Ohio and Ontario, Canada. Millions of ash trees have been killed by the EAB in Michigan and invested ash tree nursery stock in other states indicates the potential for increased spread of the pest. EAB has made its way to the south and has been found in Louisiana and Arkansas.
Monitoring traps are not the only means of EAB detection. A proactive approach utilizing observant citizens can help keep an eye out for potential populations. You can use these tips to monitor your community for emerald ash borers:
Ash Tree Identification – Ash trees are identified by their (1) opposite branching pattern, (2) compound leaves with 5-9 leaflets, and (3) diamond shaped bark ridges on mature trees.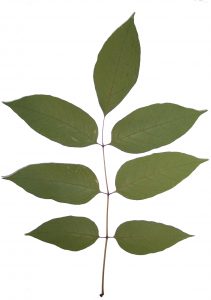 Woodpecker Damage – Of course, not all woodpecker damage on ash trees is associated with EAB infestation, but woodpecker damage in the upper part of the tree can indicate their presence. The woodpecker damage is usually accompanied by vertical cracks in the bark.
Canopy Thinning – As the attack progresses, bark cracking continues and the canopy in the upper half of the tree begins to thin.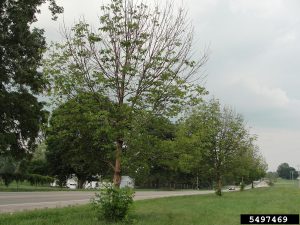 Tunnels and Holes – The emerald ash borer makes distinctive S-shaped tunnels that differ from damage from other borers.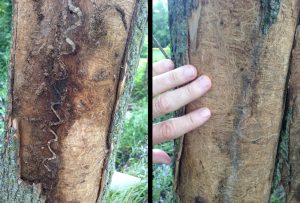 This beetle hitchhikes on firewood and infests new areas at an alarming rate. Although the EAB has not yet been detected in Florida, transporting firewood from other states puts Florida ash trees at risk. Your help is needed to detect possible infestations so they can be quickly eradicated. The information available at the following links will help you identify the EAB, EAB host trees, and infestation symptoms.
0